This article is about the
real world.
Yuya Takahashi (高橋優也, Yuya Takahashi) (born in April 16, 1984) is an Animation Supervisor in Dragon Ball Super.
Background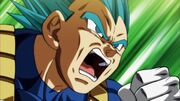 Yuya Takahashi is an animator who made his debut as an animation supervisor starting with episode 114 of Dragon Ball Super. His work has a sharp, angular style that ignores most of the Dragon Ball Super character model sheets and heavily mirrors Studio Cockpit's work for Dragon Ball Z.
Yuya Takahashi was also a key animator for the first opening and episode 13 of Dragon Ball Super and was a key animator for Dragon Ball Z: Battle of Gods and Dragon Ball Z: Resurrection 'F'.
Outside the Dragon Ball series, he is famous of his works in Fairy Tail, Senki Zesshou Symphogear G#12, and Saint Seiya Omega.
Contributions
Dragon Ball Z
Battle of Gods
CG Production Manager
Key Animation
Resurrection 'F'
Dragon Ball Super
Key Animation
Animation Supervisor
External links