This article is about the
real world.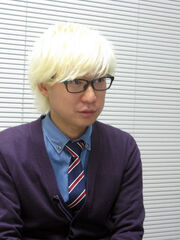 "The theatrical version I was allowed to do the script for will be the first Dragon Ball Z movie in 17 years. "Allowed to do" really is the best way to say it. It is a brand new original work. Toriyama-sensei is really great. I can go back to being a child. I think I will keep my hair dyed blond until the theatrical release next year."
— Yūsuke Watanabe, Twitter, July 2012
Yūsuke Watanabe (渡辺雄介; born on September 20, 1979, in Chiba Prefecture) is a Japanese screenwriter who has written various screenplays for several forms of media, including video games and television.
Biography
Yūsuke Watanabe graduated from Waseda University. He has notably worked on the live-action movie adaptations of Twentieth Century Boys (2008-2009) and GANTZ (2011), as well as on the TV dramas Bloody Monday (2008-2010) and Future Diary (2012).
He is was recently attached to the Dragon Ball Z movie, Dragon Ball Z: Battle of Gods, for which he has written the screenplay for.
External links