This article is about the
real world.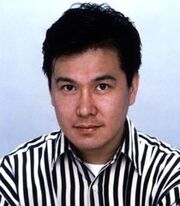 Yūji Mitsuya (三ツ矢 雄二; born on October 18, 1954) is a Japanese actor, voice actor, and sound supervisor from Nagoya, Aichi Prefecture who is affiliated with Bring Up.
Biography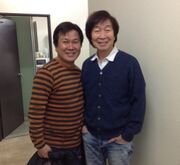 From 1977 to 1984, he was a member of the Japanese band SLAPSTICK (スラップスティック), on keyboards, with the other voice actors Toshio Furukawa (rhythm guitar), Tōru Furuya (drums), Akira Kamiya (bass), Kazuyuki Sogabe (lead guitar), and Akio Nojima (Saga in Saint Seiya and KITT in Knight Rider). Mitsuya left the band in 1984 and was replaced on keyboards by the late Hirotaka Suzuoki. In 2007, SLAPSTICK got together to pay tribute to former band members Hirotaka Suzuoki and Kazuyuki Sogabe.
Yūji Mitsuya voiced Gregory, Shin, and Kibito Kai in Dragon Ball Z. On March 1, 2013, he received the Kei Tomiyama Award for spreading the profession of voice acting across different media in the 7th Seiyu Awards in Japan.[1]
Gallery
References