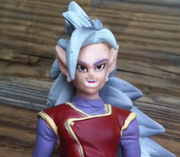 There is currently a total of 1 West Supreme Kai (also known as Supreme West Kai) collectible that has been released to date. A gallery and the attached information appends to the official releases and genuine specifics in regards to the additional merchandise pertaining to each release.
Chinese Manufacturer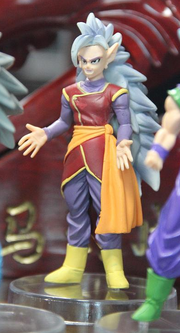 What-If Scenario series
Release date: Unknown
A most recent release has constituted West Supreme Kai in a very unique way, although many of the other characters in the same set are seemingly non-canon to the series universe. She apparently has been displayed with her royal Kai garb perfectly intact. Her skin has been well-designed along with her overall appearance, having perfect synchronization with her hairstyle and overall physical outlook. The model is very similar to previous Banpresto and Bandai releases, but is neither of the aforementioned. Unlike any previous releases, this is a stand-alone piece offered by neither of the aforementioned companies. Most of the pieces in this set remain "what-if" scenario additions, which are comprised of Saiyan characters with odd Super Saiyan transformations. The only other character portrayed in a canon fashion in this set is Broly, who appears in his pre-transformed state with shiny greenish-blueish hair. Others also included in this 12 cm set with bases and who are non-canon by their appearance are Super Saiyan 3 Vegeta (Vegeta skipped this level in canon and progressed directly to level 4), Super Vegito (with silver hair), Goku (with intricate non-canon clothing), and Super Saiyan 4 Gogeta (with silver fur and silver hair). The figurines come with miniature transparent bases to stand on (engraved with a symbol stating AF), which add congruence to the overall set as a whole.
Gallery
Community content is available under
CC-BY-SA
unless otherwise noted.