This article is about the
real world.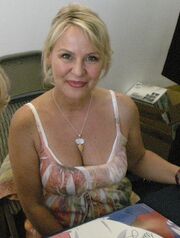 Wendee Lee (born February 20, 1960, in Los Angeles, California) is an American actress, voice actress, writer, director, and singer. She is note-worthy for having more credits than any other English anime voice actor, with over 200 credits.
Biography
Wendee Lee started doing voices at school.[1] As of April 2009, with 223 credits to her name, Wendee Lee has more credits in this medium than any other English voice-over actor. She is particularly prolific in the dubbing of anime. She voiced Bulma in the Harmony Gold dub of Dragon Ball, credited as Wendee Swan, and reprised the role nearly three decades later in the Bang Zoom! dub of Dragon Ball Super.
Various other roles in her large resume include Iczer-One in Fight! Iczer-1, Emu in the Crying Freeman series, Kagero in Ninja Scroll, Umi Ryuzaki in Magic Knight Rayearth, Scorpina in Mighty Morphin' Power Rangers, Alpha 6 in Power Rangers in Space, Faye Valentine in the Cowboy Bebop series and film, Kerberos (small) in Cardcaptor Sakura: The Sealed Card, Young Takeru "T.K." Takaishi in the Digimon franchise, Black Rose and Zelkova in the .hack// franchise, Angel in The Big O, Yuri in the Dirty Pair franchise, Sprocket in the Viewtiful Joe anime, Mai Kirifuda in Duel Masters, Kiva in Megas XLR, Haruhi Suzumiya in the Haruhi Suzumiya franchise, Mary Moo Cow and Prunella in Arthur's Missing Pal, Dorothy in MAR, Sonia Sky in MegaMan Star Force, Konata Izumi in Lucky ☆ Star, Yoruichi Shihoin, Tatsuki Arisawa, Ururu Tsumugiya, and Menoly Mallia in the Bleach franchise, Yuka Ozenji in Babel II, Rihoki in Ninku: The Movie, Twilight Suzuka in Outlaw Star, Yui Hongo in Fushigi Yugi, Yahiko Myojin in the Rurouni Kenshin franchise, Vesta in Avenger, and Saori Shiba in The Prince of Tennis.
She has directed the English dubs for various anime and video games, including Dinozaurs, Love Hina, Avenger, Klonoa, Tales of Vesperia, Rogue Galaxy, and Bleach (with Kirk Thornton). One such project (the Dragonball Evolution video game) reunited her with the Dragon Ball franchise in the late 2000s. She also wrote the script for the TV series Wild ARMs: Twilight Venom.
She is known to be good friends with Michelle Ruff.
References
↑ Magic Knight Rayearth DVDs, interview with Wendee Lee
Community content is available under
CC-BY-SA
unless otherwise noted.