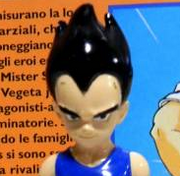 There is currently a total of 1 Vegeta Jr. collectible that has been released to date. A gallery and the attached information appends to the official release and genuine specifics in regards to the additional merchandise pertaining to each release.
DeAgostini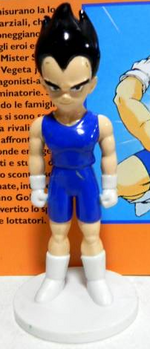 DeAgostini's Dragon Ball GT: Your Heroes in 3D
Release date: 1996
Italian manufacturer DeAgostini has released a 4-inch set comprising of approximately 60 characters, specifically limiting this slew of additions to Dragon Ball GT characters. The Vegeta Jr. piece (who stood at around 3-4 inches) was included in this set due to his appearance in the end of DBGT, specifically the final episode. The figurines are immobile with miniature bases to stand on. Notated with his alternate naming scheme on the bottom of his base along with the date of release, the Vegeta Jr. comes in a basic stance and maintains his serious expression with classic Vegeta style. This piece comes with the blue undershirt and spandex-esque clothing. Also, the model comes atop a white round base as opposed to a black one. As a first series DeAgostini release, this figurine is number 53 of the base set and is number 10 in the second re-release set.
Gallery
Community content is available under
CC-BY-SA
unless otherwise noted.