Welcome
Hi, Yami Arashi, welcome to Dragon Ball Wiki! Thanks for your edit to the User:Yami Arashi/wikia.css page.
If you're new to editing on Wikia, check out this page for editing tips and tricks. Also, take a look at our Manual of Style, and Rules for editing guidelines on this particular wiki.
Please leave a message on my talk page if I can help with anything! Dark Seeker Kotsu (talk) 01:23, March 16, 2014 (UTC)
Happy Birthday!
Hope you have a really good day, and don't get into too many hair-brained schemes. Take care! 

Dinky

Talk
14:27, April 26, 2014 (UTC)
Swag
Because I'm horrible with dates and can hardly ever remember even my own Birthday... Day late! Happy belated Birthday, dude! Hope you had a good one! I'd probably offer you kush as a present instead but this is the internet so... If you stayed on chat for a teensy bit longer then maybe I would have been able to ask you what I should draw... But still! Cheers to another year of you existing. <3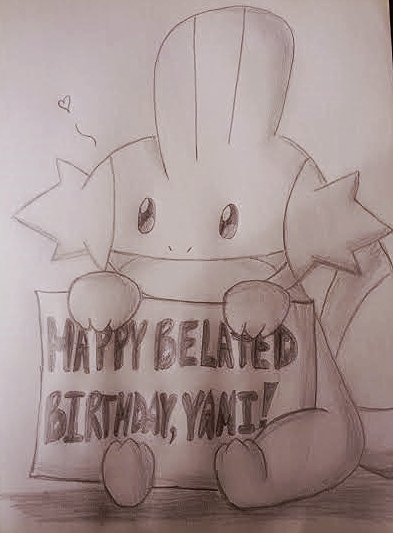 21:18, April 27, 2014 (UTC)
It's ok
Yami, we know you like Kirby. It's okay. 

Dinky

Talk
02:05, July 6, 2014 (UTC)
bee tee double yoo
By the way, if you're checking out my soundcloud and some of the subject matter doesn't make sense you, it's probably because /r/makinghiphop has weekly themes for the cyphers which sometimes stretch to hypothetical situations and such. One of them was "compliment someone" and stuff lol. 

Shakuran13' Talk' 01:34, July 19, 2014 (UTC)
Songs
Aw dude, thanks! I suppose the two things I'm decent at are wordplay and hooks lol. I'm really flattered. I totally will keep in touch. Gotta keep working on my voice and such haha. 

Shakuran13' Talk' 02:02, July 23, 2014 (UTC)
Steve9021
Undo the change you just did to Syn Shenron, as what I had put in there for his power section is true. Go to Kanzenshuu Forums on the topic of Beerus being a Galaxy Buster for a source. Steve9021
I reverted it due to the extremely low quality or redundancy in the information or grammar.
Beats
I liked both beats you sent me. I think I like Point of No Return better though. What's the subject matter? 

Shakuran13' Talk' 03:15, July 31, 2014 (UTC)
Ok I suppose I can do that. Yeah maybe I'll wait till I hear your verse to get a clearer idea haha. Should be sick. 

Shakuran13' Talk' 01:32, August 1, 2014 (UTC)
WHAT?
I'm banned for two weeks?! I thought you said "short" period of time. Was this a glitch or is it the shortest you can go? TheFrodo. . . Talk . . . Contribs. 18:33, August 1, 2014 (UTC)
Fair enough. :D
TheFrodo. . . Talk . . . Contribs. 21:25, August 1, 2014 (UTC)
Zero
Why must you make me regret switching avatars — A (t • c) 19:56, August 10, 2014 (UTC)
Rollback
I think it is fine to give rollback to good editors and I've given you rollback rights. You don't gain any authority over other users, just a faster way to revert vandalism. For more info, read up on our rollback description page. --

10X.Ka.me.ha.me.ha.....talk.....contrib. 03:55, August 17, 2014 (UTC)
Dragon Ball Kai Majin Buu saga
Oh, ok thanks. Then why do most other sources where you watch online have these titles? Perhaps just "Subbed version" as they say aired again in japan but different/wrong translation? ;/... anyway, thanks. ;)

User:WaffleGuy26 talk contrib

02:06, August 24, 2014 (UTC) 
PONR (this song almost has an unfortunate acronym)
Sweet, I'll start my verse soon. Are you gonna mix/master it? 

Shakuran13' Talk' 06:21, September 1, 2014 (UTC)
sweg
I was wondering where you've been... But that explains it. Stupid chat... Email me if ya need me~ ;D

02:17, September 3, 2014 (UTC)
¯\_(ツ)_/¯ 02:29, September 9, 2014 (UTC)
Bardock ssj2
You serious, why did you delete all the photoes in the Spirits Excalibur PAGE —This unsigned comment was made by Bardock ssj2 (talk • contribs) Please sign your posts with ~~~~ next time!
Well a page at least need to have a picture KKKBardock ssj2 (talk) 02:23, September 18, 2014 (UTC)
i agree, it's better to have a pic (even if low quality), it's better than having none at all. Auibnbrnbia (talk) 00:20, September 19, 2014 (UTC)
This wiki has standards to have at least decent pictures. You can barely tell what's going on in the image. To be fair, a lot of pages have no image at all when they could. Please stop re-adding those images to the article. If there is to be an image for it, it should be at least decent quality. --City♥Lights

[stars]

00:34, September 19, 2014 (UTC)
Warning
Please do not edit war on the site. An edit war occurs when two users continuously undo each others edits. Please note then just because another user is edit warring, does not make it okay for you to edit war in return; you are both at fault. If someone undoes your edit but you think you were right, then use that article's talk page to resolve the issue. If the other user does not respond to your request on the article talk page, then contact an admin for assistance. Thanks! --

10X.Ka.me.ha.me.ha.....talk.....contrib. 05:32, September 22, 2014 (UTC)
Bae
Toyin' with my feels by coming online for only a short period of time then lagging out over and over. 3: I'm assumming that means your chat is still shit, though, so I can't really complain. But srsly, you need to come back soooooooon, and respond to my Email. ;) Or don't, and send a new one, whatever tickles your peach. Either way, I'd be happy<3

07:49, October 10, 2014 (UTC)
profile pic
whats your pic of?Legacyhunters (talk) 04:23, December 14, 2014 (UTC)
Da ban
ily2, see you in two hours. Dark Seeker Kotsu   01:08, May 9, 2015 (UTC)
Community content is available under
CC-BY-SA
unless otherwise noted.