Welcome
Hi, Liquid speaker, welcome to Dragon Ball Wiki! Thanks for your edit to the User:Liquid speaker page.
If you're new to editing on Wikia, check out this page for editing tips and tricks. Also, take a look at our Manual of Style, and Rules for editing guidelines on this particular wiki.
Please leave a message on my talk page if I can help with anything! --

10X.Ka.me.ha.me.ha.....talk.....contrib. 03:10, April 25, 2013 (UTC)
Listen...
Y hurr that? THIS IS A JACKED UP MESSAGE!!  -from your friend Berry

Come And talk to Ichi x3 Talk

23:27, May 1, 2013 (UTC)
HELP
Am I the only one unable to reach chat? Kooala Cupcake. - Leave me a message! 13:34, May 22, 2013 (UTC)
You're editing the wrong page
I don't see if you realised it or not, but you're editing the wrong page matey. I tagged it for deletion but you redid it.

Sandubadear

02:11, June 8, 2013 (UTC)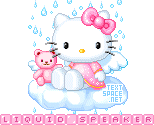 Savario94
(
talk
) 05:21, June 13, 2013 (UTC)
You and RG
Speaker, I've been in a PM with RG. He has told me that you have been mocking him and his replies on main, that's my level, and I would like for it to stop. I have asked you to not call RG a moron, I've told RG about this and he says that you've have gone and done it anyway. I don't want to see any of this on main and I don't want to be PMed about it either.
Another thing, PM is not really on Chat mod grounds, that's why Wikia has a block private messages button. If RG is doing something, and you don't like it to the point where it becomes a rule breaker, I would like for that button to be pressed.
If you'd like to talk about it more, see me on my talk page or on chat and I know there's more than one side to this.
---
Hello
Hey Liquid. I am a friend of yours, so I want to ask, would you like a sig?  Kamehameha

L

F
D
00:51, August 12, 2013 (UTC)

Okay, to use it, go to your preferences and click the box that says "I want to use wikitext in my signatures" and copy go to source mode and copy and paste 

Liquid Speaker Talk into the spot. Also, let me know if yo would like it changed.  
Hey, Liquid, did you find a way for the sig to work?  Kamehameha

L

F
D
23:09, August 23, 2013 (UTC)
Get on
LIQUID CALLAN SAYS WE NEED TO RECORD! GET ON! 

JanembaFreak97 04:12, December 13, 2013 (UTC)
Hope to talk again soon
Once I get my mic, it should be a tad more interesting for me to be around. Nice talking (sort of) to you. See ya. 

Dinky

Talk
21:46, December 20, 2013 (UTC)
Website
How's the video uploading coming with the site. --

I'llBe.Here.Till.Hell.Freezes.Over.....talk.....contrib. 00:43, January 6, 2014 (UTC)
So.........yeah
i can't use chat right now so send me a message about my story ok :(
Creeperman129 (talk) 21:41, April 9, 2014 (UTC)Creeperman129
P.S.Creeper means the Creeper from minecraft not the stalker kind
Some ghost things.
The together should happen around the time you wanted. If I did my math right. Anyway, be sure to tell if things mess up or anything. 
Some ghost 05:19, January 15, 2015 (UTC)
A special message from your "lil bro"
I wanted to explain how much of a bro you are to me, but had a hard time. Then I came across an article that helped me greatly. Enjoy!
You know you're one of my top bros, bro, because you got my back. And I got yours. You're my bro. You are truly a god among bros. Just when I think you're as solid as a bro can get, you raise the very definition of brodom to new heights. You're like a brogle, soaring to the farthest reaches of the atbrosphere. You'd brovercome all obstacles to help a bro out. This is the kind of shit that makes bros for life.
I've long admired your absolute broficiency in all things bro-related, and the way you've always carried yourself in a brofessional manner. I consider you a brole model. Not only did you school me in proper brotocol, but you were a spiritual leader, a confidant, and, more importantly, a bro. You taught me how to be true to my inner bro and to bros around me. You are a real bro. Look at you, blasting in like Rambro and firing off your launcher like nobrody's business, bro. Serious Brotosaurus Rex action. Brodius Maximus.
In fact, your brotitude is so brossential that, in many ways, you are the ultimate brototype: You sprung out of the brotean ooze at the very broment of creation, unformed, unmolded, and became the ultimate bro, more powerful than any who came brofore. I don't fear your power, bro, but I respect it. And I will always brobey it.
Brosemite Sam. Potassium Bromide. Brobi Wan Kenobi. Brover Norquist.
Like Broseph Stalin, you are leading the way to the dictatorship of the broletariate. It is truly revbrolutionary. Like the Bro v. Wade of our generation. You brobliterate the enemy from the very peak of Mt. Brolympus. That's some shit. That's brolific. But that's the kind of bro you are.
Bro-S.A.! Bro-S.A.! I'm so pumped right now! Bro-S.A.!
You are the epitome of bro, in every brossible way, and that's the Bro's honest truth, bro. I may have a bropensity for broverstatement, but this no mere hyperbrole: You are 100 brocent, absbrolutely the broest. Brotally.
I wish I had the words to describe what a good friend you are, dude.
Hope you enjoy that. I love you, bro. xD Dark Seeker Kotsu   02:43, April 3, 2015 (UTC)
pls
I need you --City♥Lights[stars] 21:03, April 4, 2015 (UTC)
Pew Pew!
I'ma get you! :> Zukleton (talk) 01:56, April 25, 2015 (UTC)
Hey bro! :D
Hey brother, just here to say I can't wait to see you and Zuki after work today! I was at 3,999 edits and really wanted #4,000 to be something special, but figured if I don't use it up right now, I'm gonna end up accidentally using it on some stupid comment. So, I thought I'd let you be the person I give #4000 to. I love ya dude, take care! Dark Seeker Kotsu   07:47, May 6, 2015 (UTC)
How the hell was "Russian gals do it best" rude language?
Broski
I love you, bro. Dark Seeker Kotsu   06:29, June 7, 2015 (UTC)
But I was only gone for a few minutes that time! D; Dark Seeker Kotsu   07:11, June 7, 2015 (UTC)
FearlessSoul (talk) 17:11, September 7, 2015 (UTC)i just started dragonball z xenoverse. i played umtil i beat raditz and then a cutscence came after with trunks. after he said come back when you are ready. i turned off my game and now i cant seem to find him or get back to that area where he showed you the eternal time scrollFearlessSoul (talk) 17:11, September 7, 2015 (UTC)
'Ey yo Broski
Honestly, I just miss you and Zuki. Love you guys to death. ~ Dark Seeker Kotsu   19:27, September 10, 2015 (UTC)
Ay brother
Sure! Really miss you, dude. Dark Seeker Kotsu   01:15, November 25, 2015 (UTC)
liquid we have an issue with sockpuppets and they must be related to SKG that kami girl so far we have people making new accounts and logging in and out like
Ronwellnagales28
Spete15
Donut22
always there is trouble that is related to
Legacyhunters (talk) 05:35, January 30, 2016 (UTC)

i think these are their other accounts LibertyGroveSantos4SA5
PokemonMasterAsh12
1hs444
Raku the tenrec Legacyhunters (talk) 04:56, January 31, 2016 (UTC)
Hey please give me another chance im really sorry i promise i'l really behave you guys are the best for sure just set my ban very earlier please :(
...?
How come you guys will easily ban me but not Bunny? She was prevously banned from chat so she should be banned again. Her previous account is VividDefined Pikapikachu99 (talk) 00:59, February 2, 2016 (UTC)
Actually Bunny was here before VividDefined if you look at the edits since date.  

Goku20

  

Talk

  

ULTRA DBZ

  

ULTRA POKEMON

 

 01:24,2/2/2016 
I know but she has been banned though. Pikapikachu99 (talk) 01:44, February 2, 2016 (UTC)
And this is coming from the guy who is currently blocked? Lol okay. --HoneyBunny
Congratulations!
Back in 2012, the community approached the admins on this site about a lack of direct admin presence on chat and blogs. The consensus was that there is a need for an admin who is aware of what time zones require additional chat mods, and which blogs are filled with harassment and other detrimental activity. The decision that we came to was there needs to be an admin dedicated specifically to the social side of the site, a position we dubbed "Social Administrator." Based on observations of your activity and positive feedback from members of DB Wiki community, we believe you would be a great fit for this role on the site, which is why you've got the job. Congratulations!
Your duties will be to just go about your regular activities, with the small addition of blog maintenance like deleting posts with profanity and spam blogs. In chat, your active role will not change, but you can now promote other chat users to chat mod as you deem necessary and appropriate. Though we don't expect you to do any more than you would like, you will also have the ability to issue editing blocks, delete, protect, and unprotect pages, and a few other things that admins have access to. In conclusion, congratulations again and we know that you will do an awesome job as the site's newest Social Administrator!
Suggested reading:
Be sure to let the other admins or myself know if there is any way that we can assist you in your new role! --

10X.Ka.me.ha.me.ha.....talk.....contrib. 01:58, February 2, 2016 (UTC)
hell yea brother!
Online atm, if you can't get on, congrats dude! Dark Seeker Kotsu   01:20, March 8, 2016 (UTC)
Yo!
Happy birthday! :D --Bermuda Von Veckenschtein (talk) 17:33, March 13, 2016 (UTC)
It's your birthday? Piggybacking on this, happy birthday dude! -- 

•

Final Chidori

•

Talk

17:47, March 13, 2016 (UTC)
Hey
Weren't you on the Fairy Tail wiki? I don't know... It may or may not have been you...Yuri Rozu (talk) 00:02, May 8, 2017 (UTC)
Haha, well, sorry then. Your name just seems familiar to me.Yuri Rozu (talk) 06:07, May 20, 2017 (UTC)
Question
Can you come vist my wiki Heroes Unite Wikia -- dbzgtfan
Moderation rights
Hey there, since you are retired we've removed your moderation rights on the wiki. If you ever become active again in the future on this wiki go ahead and contact one of the current bureaucrats to see about getting your rights back. --Neffyarious (talk) 18:50, October 18, 2019 (UTC)
Community content is available under
CC-BY-SA
unless otherwise noted.