Welcome
Hi, J spencer93, welcome to Dragon Ball Wiki! Thanks for your edit to the Talk:Dragon Ball: Xenoverse page.
If you're new to editing on Wikia, check out this page for editing tips and tricks. Also, take a look at our Manual of Style, and Rules for editing guidelines on this particular wiki.
Please leave a message on my talk page if I can help with anything! Dark Seeker Kotsu (talk) 04:40, June 22, 2014 (UTC)
Super Saiyan Green
It's traits are different from a normal SS, so it gets a page. This temporary name will be used until we get a proper one.--Neffyarious (talk) 23:11, August 14, 2017 (UTC)
He said it, not me. I can show you what picture I'm referecing to prove it to you.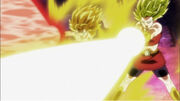 See? It's way greener than the Super Saiyan form, that shows that it isn't yellow at all. Want me to show you another picture? Fine.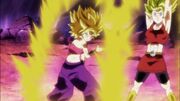 See? It is unique, has more muscle, and therefore is a page. Plus, it is green. Less green than the Berserk form but green. We have done this before. We create pages and invent names for them before official media names them any. Before Divine Lasso got a name, it was called Violent Fierce God Rending Dance, before Super Saiyan Rosé, it was called Super Saiyan Rose. So what's the problem with this form? It doesn't matter what temporary name we give any of them. Because eiher way, we'll change it to whatever the games or any offical media names it. SuperBen 1000000 (talk) 00:24, August 15, 2017 (UTC)
Re: Frieza in hell
Anime is its own canon, like the film adaptations of Harry Potter. So, the hell scenes are canon to the original anime, but not to the manga, and therefore not to Kai.
But, if I understand you right, Battle of Gods and Resurrection F take place in the Dragonball Kai timeline, coz it follows the manga more closely? And therefore not in the original anime timeline? KillRoy231 (talk) 23:10, August 22, 2017 (UTC)
The way I understand it, each version of the show - even if it's essentially the same with differences - such as original dub, redub, Kai/manga, Japanese, foreign dubs, etc. is its own canon, and the two new movies take place in the Kai canon only.
I might not watch Kai - if only because it'll still be a long and probably expensive anime - but I'll still watch Battle of Gods and Resurrection F just for fun. After all, other movies except Dead Zone don't fit into the original anime's canon yet I still watch them. KillRoy231 (talk) 22:50, August 23, 2017 (UTC)
Yeah, I just noted that about the moves here and on more than one occasion made a list of all the inconsistencies, and came up with my own theory on the alternate timelines and what transpired before then. KillRoy231 (talk) 17:56, August 24, 2017 (UTC)
I would have liked to think Bojack Unbound was canon to the main anime, except a.) Why didn't Gohan turn Super Saiyan 2 from the start? Out-of-universe, was obviously because if he did, it'd be over too quickly coz he owned Bojack and his minions once he transformed. b.) Trunks's hair is longer, when in the show he got a haircut before going back in time to tell the others he defeated the androids. KillRoy231 (talk) 17:58, August 24, 2017 (UTC)
Forum talk
Please don't call people moronic, I agree with you that Super is canon but other people can have their views without being put down.Bullza (talk) 11:03, November 24, 2017 (UTC)