Account
You can make another account if:
You can't remember the password to your old account
Don't want to use your old account anymore
Have changed your name already, but still want a new one.
If you don't plan on using your old account, making a new one is fine.

Super Saiyan Goatee

Send me a message!

13:48, February 4, 2012 (UTC)
Thats great. So this account is perfectly legal , because I had an old account and changed the name but wasn't happy with it , so I made this one. And I even disabled the old one. Gohan347 16:10, February 4, 2012 (UTC)
i love it!!
i lkove your avi! lol!
did you know my guitar gives me strength?
ZtapionZ ~The Ocarina Of A Hero~ 16:58, February 10, 2012 (UTC)
Oh! Well then in that case: hiya! It'll take some time to get used to your new name. But it's nice to know you're still out there. XP SuperKamiGuru 16:57, February 18, 2012 (UTC)
I like your avatar
Thank a lot, nice to meet you! n_n I'll be sure to ask if somethng arises, thank you! CuddlyNinja 03:26, February 22, 2012 (UTC)
Hahaha, alrghty then! n_n CuddlyNinja 03:32, February 22, 2012 (UTC)
It's from an anime called Baka & Test: Summon the Shokanjuu it's an anime I really like! n_n The character is name Hideyoshi Kinoshita. Thanks again, also! CuddlyNinja 03:41, February 22, 2012 (UTC)
Nice, let me know whn you do! Yeah, I do enjoy video games, 'm sure you'll also be hapy to hear I'm not a big first person shooter fan also! I fo kind of like Halo though. CuddlyNinja 04:24, February 22, 2012 (UTC)
dragon ball
Umm... i saw u havent seen dragon ball. Well, here's the end of all your problems.
Just got Oot recently. Do u like it? (Why ask?)

Vegeta beat zarbon lol

Ok. I myself am a fan of Oot more. No, i havent played skyward sword. Please remember 2 sign with teh 4 ~s.
so hows the link(both green clothed hero and webside.)?
Whoops.
Hope ya didn't read my post on FF13-2 then lol, that stuff had major spoilers. Sorry 'bout that. UntoldSarcasm 18:53, February 25, 2012 (UTC)
So it was a soy meat? As in, a fake meat? A Vegetarian meat? That's awesome!! You know I'm a vegetarian, right? Just makes it all the more coincidental. On the Dreamworks logo it says "Animation SKG", I also thought that was funny. SuperKamiGuru 22:56, February 26, 2012 (UTC)
~Power Core~
After reading, well, I suppose first I should mention that this is more or less constructive criticism and I hope you don't take any offense to it. Not that I'm going to say it was terrible or anything, just general tips really. I'll also mention what I liked, seeing as it's hard to not like something about anything.
To begin, punctuation, though not extremely important in fanfics, is something that needs to be worked on and perhaps you could elaborate more on the setting or how a character looks; basically some backstory and appearance (though you do describe them in a general sense). There are also a few minor typos, nothing that impedes one from understanding what's happening anyway. You also begin speaking in first person (As Flinn) but begin speaking in third person at a later point. Unless you indicate an obvious shift in perspective it can be a bit confusing and is usually best left FP or TP than a mix.
As for what I liked, the concept of the story has great potential. It may seem like your average J-RPG story, but that's what makes it good. A variety of characters are introduced early on, each with fairly unique personalities, and the objective seems clear so far.
Essentially all I really see that needs improving is the descriptive portion of it, and some punctuation. For example, you could elaborate on one characters relationship with another more to make it so if something happens in a later part it's more dramatic and interesting. Make sure to also remind the reader of how oen character feels about another, but in a subtle manner. Seems pretty good so far though~ I'm not sure if you have a history of writing, how old you are, certain skills, etc. So I might, and probably am, asking a lot from you, so just write at your own pace and do what you want. After all, the story is yours and yours alone.
Every time I think of Duster I picture this guy: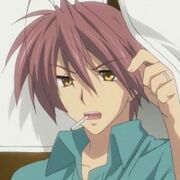 (This best damn anime character in existence, Furukawa Akio)
All The People That I SeeI Will Never Understand
Another thing that makes us bros
Mario 64 was the first game I ever played too!!!!

MajinFrodo

DUDE! I haven't seen you here forever! Where the hell have you been??? Trying to think of a good Brentalfloss or Screwattack refference I want to talk to you! Leave me a message ASAP

MajinFrodo

Wait, you haven't seen my new username yet? Man! It really HAS been a while!
So, how's it going man? It's been forever, I'd like to talk more often. I got an NES and Mega Man 2!
Majin Frodo. . . Talk . . . Contribs. 21:31, September 4, 2012 (UTC) (and a new sig)
I REALLY WANT TO PLAY ARKHAM CITY!!!! I haven't had the chance to though. Also, I paid 45 dollars for the NES + cords + controller, 3 dollars for Mario/Duck Hunt and 16 for Mega Man 2. About a month later, I got both Tetris and Doctor Mario for 7 each. Majin Frodo. . . Talk . . . Contribs. 20:48, September 5, 2012 (UTC)
no.
You have not talked for TOO LONG GOHAN! 
Anyway, this is Frodo. And you have not been talking. TheFrodo. . . Talk . . . Contribs. 15:20, January 12, 2013 (UTC)
I BURIED PAUL (over 1,000,000 internet points if you get that reference)
Dude, this is VBZL, you know, old wiki friend, etc. Just telling you this for contacing me or whatever TheFrodo. . . Talk . . . Contribs. 17:28, March 16, 2013 (UTC)
You here ever?
It's been a while since you replied, man. How have you been? Are you active anymore? (Also, this is Majin Frodo on a new account if you didn't already know) Write back! TheFrodo. . . Talk . . . Contribs. 15:40, August 16, 2014 (UTC)
Community content is available under
CC-BY-SA
unless otherwise noted.