Welcome
Hi, Dragon ball X, welcome to Dragon Ball Wiki! Thanks for your edit to the Gohan's First Date page.
If you're new to editing on Wikia, check out this page for editing tips and tricks. Also, take a look at our Manual of Style, and Rules for editing guidelines on this particular wiki.
Please leave a message on my talk page if I can help with anything! -- 10X Kamehameha (Talk) 01:33, 24 December 2010
ever thought of making your own ideas for Dragon Ball Z? Then go to Ball Fanon Two Wiki Dragon Ball Fanon Two Wiki. See you there! (MajesticStardustDragon)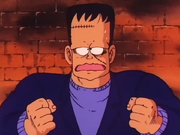 Sorry! Ball Fanon Two Dragon Ball Fanon Two! MSD
Delete my other messages! just go to dragon ball fanon two!
Hello, I am curious how did you get the name Dragon Ball X? Also are you a girl?
 BardockGoku  talk  contribs 
11:10, December 13, 2011 (UTC)
I saw that edited my talk page 3 times. I had to delete the last two of the edits you made. If they were message could you please resend them.
 BardockGoku  talk  contribs 
02:09, December 15, 2011 (UTC)
Hey Jen!
Hey jen, how has your life been the last week or so?
 BardockGoku  talk  contribs 
14:43, December 19, 2011 (UTC)
Hey is this 'TheLastSuperSaiyanX'?
 BardockGoku  talk  contribs 
23:29, February 10, 2012 (UTC)
Oh okay. lol, there is a user by that name and her name is also Jen, what a coincidence xP.
Hello
I came to say hi and i just found this page recently and thought this page was an article for a new series considering the name so i was like cool a new dbz series XD i completely didn't notice it was a user. . . Hope i didn't get the wrong impression anyway send me a message if you like. Trunksl

Community content is available under
CC-BY-SA
unless otherwise noted.