What is wrong with the page. DragonEmeperor (talk) 22:55, October 7, 2017 (UTC)
Warning
Don't vandalize pages, please. — • Final Chidori • Talk 22:48, October 8, 2017 (UTC)
Enough
Cut the shit. Vandalizing pages is pathetic. ExyleCage (talk) 01:20, February 4, 2019 (UTC)
I reported you to administration for vandalizing and calling names. ExyleCage (talk) 01:56, February 4, 2019 (UTC)
Block
You've been blocked for vandalizing a user's talk page as well as insulting them. If you are having an edit conflict. leave the article in question as it was and use its talk page. Don't go and personally attack users. When you return, please adhere to the rules at all times. 
Trust me. You don't want something like this happening to you. 0551E80Y (talk) 06:04, February 4, 2019 (UTC)
(
Molly Baker
(
talk
) 01:21, May 23, 2019 (UTC)).do you know what episode this picture came from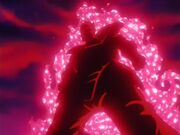 Community content is available under
CC-BY-SA
unless otherwise noted.