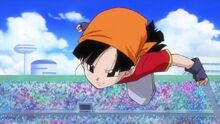 I am a SUPER fan of Dragon Ball(DBZ, DBGT, DBS, and DBZ Kai included).
I think Pan's cool.
Dragon Ball is one of the first anime that I've ever loved.
Future Trunks and both Present and Future Gohan are tied to be my favorite saiyan characters.
To be honest, I'm more of a Goku fan but Vegeta's still cool.
I like a majority of the Z Fighters and their supporters.
I love all of the fusions that appear in the series. My fav fusions would be Gotenks, Gogeta, and Vegito(not in that order).
My favorite villains are Perfect Cell and Majin Buu(any form).
Community content is available under
CC-BY-SA
unless otherwise noted.