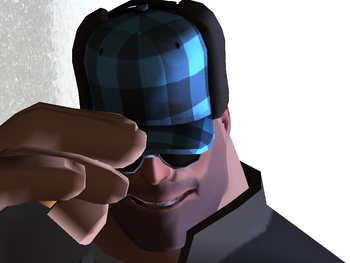 Innocent? No you ain't.
Enter de Hood.
Things that I will work on later
[1] Alright, now that you've seen that, move on to the rest of my page. Sign my guestbook!
"I prefer being called Hoodie."
— The Supreme Diamond-Hooded Eagle, sorry, Hoodie about his name.
AssassinHood, also known as The Supreme Diamond-Hooded Eagle or Hoodie, is an user on the Dragon Ball wiki, also seen on numerous other wikis such as the Ultra Dragon Ball Wiki and the Lookout Wiki, where he operates as an admin, watching over the wiki, striking trolls, shall they happen to come around.

Personality
While he usually maintains a cold, formal personality, he may vary depending on who he is talking to. He may be warm, hostile, but really prefers to have someone that shares the same interests as him. He also likes being alone and hates anything that has to do with online, such as wiki marriages or so.
Appearance
Hoodie wears a dark blue shirt which is a bit oversized, teal-colored pants and has black shoes. He has long blue hair and eyes.
Biography ...Well the title says it all now, don't it?
Early Life Hoodie's early life was spent in the Assassin's Creed Wiki. Getting familiar to the way Wikia worked and functioned, he found himself in a comfortable position. However, following a ban, he ventured away, trying to think of a wiki to edit on. Discovering he still had decent knowledge of Dragon Ball, he ventured to the Ultra Dragon Ball Wiki, a wiki that was in a dying state. Slowly editing he got to know many users, including Gotek, TheUltraKamehameha
Community content is available under
CC-BY-SA
unless otherwise noted.