There are currently a total of 3 World Tournament Chairman (also known as Budōdera Kanchō) collectibles that have been released to date. A gallery and the attached information appends to the official releases and genuine specifics in regards to the additional merchandise pertaining to each release.
Bandai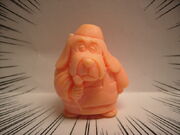 Dorakeshi Keshi-Gomu DB Part 2
Release date: Unknown
In the 80's, a series of miniature quarter-priced rubber machine toys was released, much like the Ultimate Muscle series and coming in randomized colors. They are known as Dorakeshi Keshi-Gomu and are rather hard to come by. All characters in this set came in a random color and all of them were very tiny and immobile. The Tournament Chairman appears once in this miniature set, although the same mold appears in numerous colors, such as green, tan, red, blue, or yellow. The mini rubber figurine comes with one hand to his side and the other holding a mic as he prepares to speak, or in his case, bark.
Model Kit Mini Set 030
Release date: 1986
These mini snap-together model kits were released in 1986 by Bandai. This specific set included Nam along with the Tournament Chairman and Goku. The base for the model kit is yellow, although the kit can be finished and painted. Each figurine has two snap-together pieces, a front and backside. The Chairman's position is the same as his Keshi piece, portraying him as he holds the mic up to his face. The model kit snap-together set is number 030 of the many in this series. This is pack number 8 of 8 different packs in this set.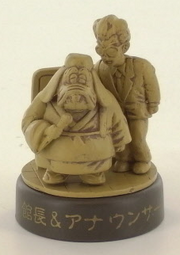 Dragon Ball Mini Figure Selection Series 3
Release date: 2004
Bandai's Mini Figure Selection series volume 3 was released in March 2004 and has included a repertoire of characters from the Dragon Ball series in a nice bronze color highlight. Included in this set is a miniature Tournament Chairman along with the World Tournament Announcer beside him. The Chairman is seen holding the mic as the announcer speaks to him. The miniature figurine set is well-crafted and has a distinct bronze coloring scheme, matching the rest of the Mini Figure Selection series set.
Gallery