There is currently a total of 1 West Kai collectible that has been released to date. A gallery and the attached information appends to the official release and genuine specifics in regards to the additional merchandise pertaining to each release.
Plex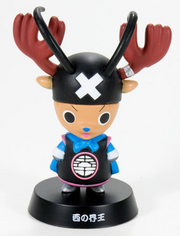 40th Weekly Jump Collaboration Series
Release date: 2008
This version of the West Kai outfit cross-fusion with Chopper portrays Chopper Man with a black base and the name detailed in characters on the base front. As with the other pieces from this collection, the figurine includes the antennae and usual appearance of Chopper, but adds West Kai's outfit, which in his case has a blue cape and undershirt for his clothing design. A variety of characters have been incorporated in this set. All outfits Chopper is seen wearing and included in this same 12-piece set are Kami, Majin Buu, Super Saiyan Goku, Goku, Piccolo, King Piccolo, Great Saiyaman, Great Saiyawoman, Vegeta with basic armor, Vegeta with first appearance armor, West Kai, and King Kai.
Gallery