There are currently a total of 3 Vinegar collectibles that have been released by numerous companies to date. A gallery and the attached information appends to the official releases and genuine specifics in regards to the additional merchandise pertaining to each release.
Bandai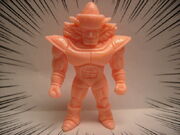 Part 13 Keshi Set
Release date: 1991
This miniature Part 13 Keshi set has included a few of the characters from the Garlic Jr. Saga, Trunks Saga, and the Cooler's Revenge movie. One of Bandai's Keshi series, it has included characters such as Spice, Vinegar, Mustard, Salt, Future Trunks, Super Saiyan Future Trunks, two variants of Gohan, Krillin, King Cold, Cyborg Frieza, Goku with Yardrat outfit, Super Saiyan Goku with Yardrat outfit, Frieza powered up, Cooler, Maron, Yamcha, and Vegeta.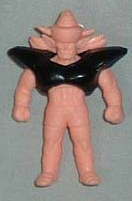 Dorakeshi Keshi-Gomu Kurosu Part 4
Release date: 1990's
In the 90's, a series of miniature quarter-priced rubber machine toys was released, much like the Ultimate Muscle series and coming in randomized colors. They are known as Dorakeshi Keshi-Gomu and are rather hard to come by. All characters in this set came in a random color and all of them were very tiny and immobile. Vinegar appears once in this miniature set, although the same mold appears in numerous colors, such as red, green, blue, yellow, or tan. The mini rubber figurine comes with his hands to his sides. This specific piece is seen wearing the Spice Boys armor, as they are all able to snap onto the base figurines. Characters included in this Kurosu Part 4 set are Spice, Vinegar, Mustard, Salt, King Cold, Future Trunks, Super Saiyan Future Trunks, Goku with Yardrat outfit, and Super Saiyan Goku with Yardrat outfit for a total of 9 pieces.
Model Kits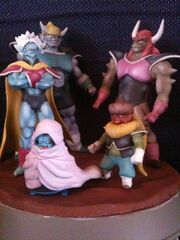 Statue Model Kit Series
Release date: Unknown
Vinegar saw a nice detailed resin-based model kit statue released as a part of a set alongside others of the Garlic Jr. team, including Garlic Jr., Spice, Mustard, and Salt. The detail on this piece is dazzling, portraying his unique battle armor and Mongolian-type hat. The ground base highlights his stance as he maintains a powerful position. Garlic Junior comes with his team of ruthless and savage lackeys. The set is also extremely unique, not only due to the very limited quantities, but also because of the fact that they are a part of one set.
Gallery