There is currently a total of 1 King Furry (also known as Koku-Ō and King Koku) collectible that has been released to date. A gallery and the attached information appends to the official release and genuine specifics in regards to the additional merchandise pertaining to each release.
Plex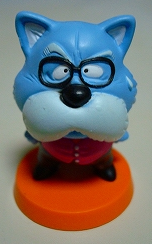 Anime Heroes Dragon Ball series
Release date: 2007
Plex has released an assortment of basic figures in the "Mini Big Head" style. Released sometime in 2007, this assortment, entitled "Anime Heroes" has a wide variety of characters, primarily comprising of Dragon Ball characters to form a large collection. This King Furry mini figure comes with his hands gripped tightly as he makes a decision with a serious expression. One of his eyebrows is seen raised as the other is slightly lowered. As a canine anthropomorphic character, King Furry remains a very nice piece in the Anime Heroes collection, from his moustache right down to his black pants and business attire. The mini figurines go for a rather adorable and cute look. The figurines in this set stand at about 40 mm (1.56 inches).
Gallery