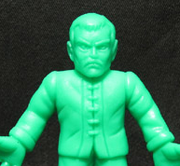 There are currently a total of 3 Fighter 83 (also known as ランラン老師, Ranran Rōshi; "Lang Lang Roshi") collectibles that have been released to date. A gallery and the attached information appends to the official releases and genuine specifics in regards to the additional merchandise pertaining to each release.
Bandai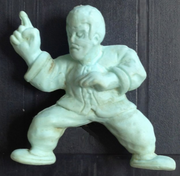 Tenkaichi Budokai Tournament playset
Release date: 1986
This unique playset was released in the 1980s incorporating participants from the World Martial Arts Tournament, who are miniature figurines able to be placed on the playset. Each playset comes with a slew of characters but this one in particular has numerous contestants included. Fighter 83 is seen maintaining a battle stance as he raises one hand up and stretches his legs in a Kempo fighting style. Pieces included in this same Budokai set are Nam, Krillin, Jackie Chun, Goku, Bulma, Bacterian, a Great Ape Goku, Ranfan, Bruce Lee Impersonator, Fighter 83, Fighter 69, Giran, the tall Bully of Orin Temple, and two more World Martial Arts tournament fighters.
Dorakeshi Keshi-Gomu DB Part 1
Release date: 1980's
In the late 80's, a series of miniature quarter-priced rubber machine toys was released, much like the Ultimate Muscle series and coming in randomized colors. They are known as Dorakeshi Keshi-Gomu and are rather hard to come by. All characters in this set came in a random color and all of them were very tiny and immobile. Fighter 83 appears once in this miniature set, although the same mold appears in numerous colors, such as green, tan, red, blue, or yellow. The mini rubber figurine comes with both arms spread out and his hands in opened postures.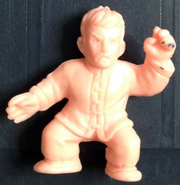 Dragon Ball KeshiGomu
Release date: Unknown
This Keshi piece is a unique variant as it features Fighter 83 in a Kempo style fighting stance as he maintains a serious expression. The figurine maintains a crouching posture as one hand is raised upward and in a battle-ready defensive stance. His other hand is seen flailing to his side as Fighter 83 remains in a battle-ready position.
Gallery