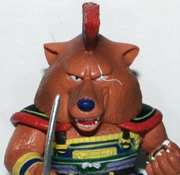 There are currently a total of 3 Bear Thief (山賊熊, Sanzoku Kuma) collectibles that have been released to date. A gallery and the attached information appends to the official releases and genuine specifics in regards to the additional merchandise pertaining to each release.
Banpresto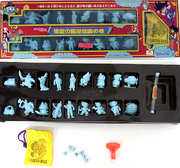 Keshi Collection Package
Release date: Unknown
This large package of a repertoire of Dragon Ball characters includes a total of 18 pieces. The Bear Thief is included in this elongated rectangular package. It is a new keshi piece exclusive to this packaging, featuring the Bear Thief holding his Azure Dragon Sword in one hand as he crouches in a battle-ready posture. There are many others included in this same set as well as a few vehicle Keshi pieces and accessories.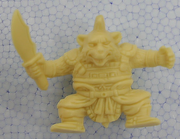 Keshi Pack Series
Release date: Unknown
This Keshi Bagging Series has a randomized Keshi piece included in each bag. The mini bagging front features an image of Kid Goku atop Shenron and Master Roshi on the back holding the Bansho Fan. There are 18 different Keshi pieces to collect in this set albeit being randomized in the packs. The Bear Thief is included in this set and is the same mold from the Keshi package set released by Banpresto. This Keshi piece holds a yellow hue as opposed to the blue version of the full set included in the Keshi package set also released by Banpresto.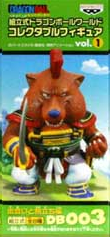 Dragon Ball DWC series volume 1
Release date: 2009
The Banpresto DWC series includes the Bear Thief as collectible number DB003 in the miniature series and was released in January, 2009. The figure comes with one hand in a feral posture and the other wielding his Azure Dragon Sword. These figurines come boxed and in their own authentic case with the character image in front, as do all the other figurines in this set. The Bear Thief figurine stands at 90mm. Others included in this same volume 1 set are Kid Goku, Bulma, Master Roshi, Turtle, Oolong, and Oolong in his robot disguise with a pot.
Gallery