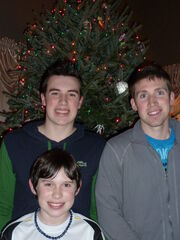 best friends
leogian4511,goten66 , trunksl,jf,pablo who i have not seen in forever, buu,UG ,princess,my sis gl,
sports
sports are huge in my life so... heres a list
chicago bulls- d rose and luol...epic
new orleans saints- DREW BREEEEEEEEESS!
new york jets- tebow
philladalphia eages- desean...yeeeeah
arsenal- the best
la galaxy- 3 of my favorite players...what more could i ask for?
barcalona- how can you not like them?
now for some players...
zidane- yeah...the best and always will be and hes my hero
messi- the best in the world right now
d rose- he inspires me to do greatness
drew brees- this guy is the reason i watch football
tebow- he is the most inspirational person ive ever seen
donavan- my idol
becham- yeeeeah buddy
van percy- this guy is a leader
dempsey- he might come to arsenal...and hes american
blanco- i grew up watching this guy...what a beast
henry- no its not henry its pronouncer ahnree...still a beast though
other stuff i like
i like pokemon,yugioh, star wars, power rangers, soccer,bionicle, and BATMAN
Favorite charecters from things
favorite pokemon- oshawott all the way,but mewtwo is a close second
favorite pokemon trainer- red...but who can blame me?
yugioh monster- rainbow neos
yugioh duelist- its a tie between jaden and jessie
superhero- batman!
star wars- skywalker...anakin skywalker
power rangers- tommy oliver,not the oldest just the best
dragon ball- i was always a fan of cooler and vegeta
bionicle- hm...ive got a few names that come to mind so...lhikan,defilak,jaller,dekar,tahu,vakama,ignika,lewa,takanuva
sonic the hedgehog- shadow and silver , ive always liked the lone wolf kind
mario- luigi...yeah i said it...
kingdom hearts- ah...great games with great charecters...riku,sora,roxas,xemnas,axel,the king
Community content is available under
CC-BY-SA
unless otherwise noted.