BLARGH!
Now I've got your attention... What was I gonna say? Aw well. Well hey, there, user. That's right, I know who you are. This is the place where I post stuff that's going on with me, so I'll never update it. be sure to check it.
Thursday, 7th Febuary, 2013.
If you know me, which I hope you do, because I don't like new people coming, then you would notice I haven't been on for like, ages. I'll make an attempt for weekends and holidays, but most of you are never on when I am, because most users come from the states.
Mah FAQs
What do you prefer, Dragon Ball, Dragon Ball Z or Dragon Ball Gt? It goes like:
DBZ
DB
DBGT
Who is your favourite user? I honestly don't have one favourite.
How old are you?
I don't age. I was killed a few decades ago and was sent to Hell.
The connection there sucks.
Where do you live?
I live in Britain, in West Sussex, in a place called Crawley Down. Come at me stalkers.
What's your name?
I go by many names.
Mah facts.
My fish killed themselves.
MahIncredibleGameFeatsThatAreTheGreatestInTheUniverse
On RB2 I managed to beat Goku, SS1 Vegeta, SS1 Broly and Raditz with... KRILLIN. On hard.
I was Goten and Trunks SS1, VS SS1 Goku and Vegeta... and won. Also on hard.
Mah User stuff.
Mah polls.
What fusion would you like to see most?
Mah Sigs.
Mah Buds!
Okay these are my buds! (In no order.)
Sandy (Mysterious Luster), who doesn't love this guy? He is always a great guy and he is a real laugh sometimes. He's also my oldest wiki friend.
88 (Vegeta88), just an epic guy really.
Cookie (CookiePirate), everybody loves this guy :D
Tailz (AlmightyTailsDoll), He's a great laugh and always fun to chat to!
Phierb, For one we rule Friends tv show wiki together, for another we've been buds since before I made this account.
Yamcha626, I never realised how epic and random he was until we were stuck in chat together and it was the most awkward chat ever!
Brodo, We're so alike, there's only 1 thing we disagree with!
Red, We actually have real chats!
Drayden, one of the first users I met, he's a really kind guy. This dude left. ;(
TheOddMusketeer, He just, rocks, and he likes a lot of the same things as me.
Mah Games.
Favourite game.
Okay so my favourite game of all time has been Budokai 3, AMAZING story mode, getting to fly around finding the Dragon Balls, the unique option of choosing which character to play with, the extra mode available once completed story mode and the extra bit at the end of the story with SS4 Goku, Vegeta and Gogeta fighting Omega Shenron.
---
Games I own.
I own Raging Blast, Burst Limit, Budokai 2 and 3, the game everyone hates, Dragon Ball Origins, Dragon Ball: Origins 2, Goku Densetsu, Attack of the Saiyans and Super Sonic Warriors 2.
---
Other Games I like.
Love: Raging Blast, Budokai 2.
Like: Attack of the Saiyans, Origins 1 and 2 and Super Sonic Warriors 2.
---
Other Games I don't ''like.
---
Other.
As you might have guessed I am so looking forward to Budokai HD collection!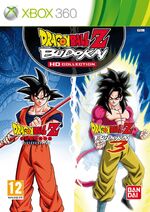 Mah Music.
I'm a huge fan of music and love a variety of it, from Skrillex to Lazlo Bane.
My Top Ten Artists. If you haven't heard these guys, do it now.
Example.
Calvin Harris.
Rizzle Kicks.
Wretch 32.
Tinie Tempah.
Kayne West.
Chase & Status.
Jason Derulo.
Dizzee Rascal.
Skrillex.
Mah Opinions.
Okay so I came up with this idea, you message me and say what you want my opinion on! NOTE: I may not do all of them.
Futurama and Simpsons. (Requested by RedStarDragonBall.) I am a gigantic fan of the Simpsons and Futurama, owning 3/4 Futurama seasons and owning the 4th, 5th, 9th, 10th, 11th, 12th and 13th seasons of Simpsons along with a comic subsciption.
So overall rating:
Simpsons: 9.8 out of ten.
Futurama: 9.7 out of ten.
I prefer Futurama to Simpsons but Simpsons, I can watch millions of Simpsons episodes while you get a bit bored of Futurama.
Mah Quotes.
---
I always seemed to be kissed the most.
~Miri~
---
Really? I loved that game! You got to kill Zombies with frying pans!
-Me proving how good Dead Rising is-
---
All you people do is... TAAAAAAAAAAAAAAAAAAAAAAAAAAAALK!
~~Super Buu watching DBZ~~
---
Screw that, I want my cookies!
--My bro (my real brother btw!)--
---
I can't help it! The noobs fascinate me!
---SKG, one of my all time favourite quotes!--
Don't thank me, I just love making others completely lost.
---Yamcha626, another favourite.---
---
Convo 2. (me in a live chat.)
Cookie: So me and my friend were talking, and this argument came up...... Flying dogs: Awesome or horrible? JanembaFreak: awesome for a while
JanembaFreak: Terrible after a few days
Gokan (me): Agreed.
JanembaFreak: Sh*t all in your hair
AlmightyTailsDoll: Dogs aren't meant to fly
Goten66: ......Ew
AlmightyTailsDoll: EWW!
---
Convo 3. (Me in a dead chat.)
Pokemon battle music comes on*
Db wiki chat used bore attack!
Gokan became bored!
Gokan used Pointless text!
Db wiki chat fainted!
But I'm still bored.
---
Convo 4 AKA Attack of the Troll.
Me on blog: I AM TROLLACTUS DESTROYER OF WIKIS. It said: I HAVE DESTROYED THOUSANDS OF WIKIS ACROSS THE NEXT THIS ONE IS NEXT YOU WILL ALL BE DESTROYED ALONG WITH IT.
Me: ...
If you are intelligent enough to shut down a wiki then why can't you spell?
SS1: XD
Troll: I HAVE SPECIAL POWERS I DO IT WITH Me: So you're a violent magician? Troll: I'M A TROLL GOD WITH SPECIAL ABILITIES TO DEVOUR WIKS.
Me: So you're a god with nothing better to do than sit on a computer all day and hack wiki's. That makes sense.
LK: Do not feed the troll.
Reaper: Got to feed those trolls or they go hungry.
Troll: I DONT HACK I USSE MY POWERS TO SUCK THEM OF THEIR CONENT AND LEAVE THEM BLANK
Me: Ah, I see, that's much better.
Shak: But I want to feed the troll... it's my favourite pastime.
LK: I'm sure you don't just use your power of sucking for just content.
(counter-trolled).
------------------------------------------------------------------------------------------------------------------------------------------------------
Convo 5. (in chat.)
Sam1002: i have to
u have any problem?
PrinceKakarotSS3: XD
Sam1002: kakarot don't laugh
PrinceKakarotSS3: XD
Sam1002: i am serious
Gokan1603: XD
PrinceKakarotSS3: XD
Vegito 7900: XD
Phierb: XD
Sam1002: wut so funny guys?
Gokan1603: ...
XD
Phierb: XD
---
Mah Avatars.
Mah Pics
Gallery.
Dbz for dummies.
Saiyan Saga part 1, Raditz the freak!
Saiyan Saga part 2, Like they could improve!
Saiyan Saga Part 3, Dem NASTY Saiyans!

Saiyan Saga Part 4, Vegeta's DS!
Mah Other Stuffz.
Other Stuffz I like. (They are not in order).
Friends (TV show).
Mario games.
The Nintendo Wii.
The Xbox 360.
Percy Jackson (books not the film).
Young Samurai books.
Jack Black.
Will Smith (WOOOOOOOOOOO!)
The Simpsons.
Futurama.
The Fresh Prince of Bel-air.
Mib 1, 2 and 3.
Db wiki :P
Example.
Rizzle Kicks.
Eminem.
Scrillix.
Ceelo Green.
Other Stuffz I don't like.
Trolls.
YOU!
Mah guest book.
Remember to keep the number format and if you can, put a comment!
Guess I should too. :P This Random Dude is bored so talk to him
Your Welcome. Your extermination has begun! Your life will no longer belong. Confront me, or be erased! 16:17, July 11, 2012 (UTC)
Very nice page! Mystery reveals!~Luster was here?~Where is he now?~ 18:31, July 18, 2012 (UTC)
YOLO -- Template:Dray2 00:20, July 20, 2012 (UTC)
Awesome DBZ for dummies Slide. Phierbito-Seeya 'round 16:43, August 8, 2012 (UTC)
Hey Gokan. Chef Chicken 03:44, August 21, 2012 (UTC)
Hey! :) -- CookiePirateTalkContribs 06:33, August 24, 2012 (UTC)
Bwaaaah. Mr. Meow talk blog contribs edit stats
ASSJ R GThe Ultra ThunderEdit Countcontribs 18:14, November 12, 2012 (UTC)