Hello, whoever you happen to be, I'm Freeza Burn. You can call me Burn, Burner, Jon, or pretty much whatever, I'm not too picky. I'm a fan of Dragon Ball (why else would I be here? :P), and in real life I recently finished graduate school (in mathematics).
At 23 I'm pretty much the old man on here, but I feel like you can never be too old to enjoy DB (or most anything, really). I'm a member of the Manga Force, and the manga section of the wiki has improved by leaps and bounds from what I remember when I first came on here.
Aside from DB and mathematics, my other interests include physics (was a math/physics double major as an undergrad), playing violin and guitar, and doing karate, the last few of which I somewhat neglected in college. I spend most of my leisure time playing video games, hanging out with friends, and reading. I work as a content developer for math textbooks; it pays weIl and is close to home, but I can't see myself still doing it once my loans are paid in a year or so. I'm a pretty goofy (and occasionally sarcastic) guy, so if you're ever unsure if I'm joking about something, it's pretty safe to assume that I am. In case this hasn't satiated your unending desire to learn about me, here's my Facebook (or just feel free to ask!)
I also now have my own Dragon Ball Z Abridged episode!
Currently
Watching
Reading (manga)
Playing
Full Metal Panic? Fumoffu
Yotsuba&!
Pokemon X
Favorite stuff
Dragon Ball-related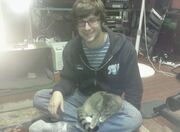 Manga/Anime (roughly in order)
TV shows (non-anime)
Books
Interests/Hobbies
Bands/Artists
Video Games
Mass Effect series
The Legend of Zelda: Ocarina of Time
Final Fantasy VI
Banjo-Kazooie
Super Mario 64
Shin Megami Tensei: Persona 4
Shin Megami Tensei: Persona 3
Legend of the Mystical Ninja Starring Goemon
Final Fantasy IX
Donkey Kong Country series
Knights of the Old Republic
Starcraft
and far too many others
Past Avatars
I quickly seem to be getting restless with my avatars. Here are some I've had in the past:
Community content is available under
CC-BY-SA
unless otherwise noted.