Leg.end.ary .Sup.er Sai.yan .Go.tek

"Skedoosh"
— Po from Kung Fu Panda
"I am Po.... and I'm gonna need a hat."
— Po in Kung Fu Panda 2.
"Once again the only logical user is ignored."
— Me
'Lo everybody!! I'm Gotek. I'm obviously a huge DB fan, if I weren't I wouldn't be here :P. I also like Bleach a lot! You may ask why my username is Gotek, you may not, I'm gonna tell ya anyway! My username is Gotek 'cause before I created my account I came up with a character name Gotek, when I made my account I couldn't think of anything better so now my username is Gotek and I will probably never change it!
Things I can help you with!
I'm very skilled on Wikia so there are many things I can help you with.
Sig making- I'm am VERY skilled at making sigs, so if you want a sig I can make you one or if you can make a sig but want a better one, I can do that too.
Userpage coloring- See the colors on my userpage? I can do that for you too, just ask! :)
Logo making- If you want a logo I can make you one. I can make it many different ways.
Talk templates- This you can probably figure out on your own, but if you want me to make you one just ask!
Photo editing- I probably won't get asked to do this, but I am very skilled at editing photos so if you want a photo edited for a fan fiction or you want me to color your drawings or if you want me to touch up a photo I can do it!
Banners- Besides Callanball I probably make the best banners on the site. So if you want one just ask and I'll make you one.
You can ask for help with anything else and I can probably help you! :P
Other Wikis I Edit On
Favorite Characters
Favorite Forms
Favorite Attacks
Final Flash
Special Beam Cannon
Big Bang Attack
Light Grenade
Spirit Bomb
Character Archetypes
Anti-Heroes
Supporting/Secondary Heroes
Main Villains
Supporting Villains
Antagonists
Main Heroes (My least favorite Character Archetype)
Sigs

Super

Ultra

Mega

Insanely

Powered

Up
Gotek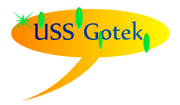 Leg.end.ary .Sup.er Sai.yan .Go.tek


Go.tek, .The ..Leged.ary ..Warrior..

Fa.lse .Su.per .Sai.yan .Go.tek
............................................................
Userboxes
| | |
| --- | --- |
| | This user enjoys the series Bleach, but does not enjoy the cleaning product Bleach. |
Pages I've added
Guestbook

Ms.Bulma..... talk ..... contrib.

20:59, November 22, 2011 (UTC)
Hey Gotek, SSJ4.Vegito. . . Talk . . . Contribs.
Hey Gotek, I'm here:D ~DB wizard 14:28, November 24, 2011 (UTC)
Nice page Merry.Stink.ing.Chris.tmas ..... talk ..... contrib. 00:59, December 18, 2011 (UTC)
heyo it's the jennyo. Billybobdafunnie guay's sister 16:05, December 19, 2011 (UTC)*I don't think You're being ignored. FusionReborn99 Talk 17:04, December 22, 2011 (UTC)
U R a really cool dude! {{SUBST:User:GogetaRules/sig2}} 22:06, January 11, 2012 (UTC)
Hello. I can not die. I AM death.
YOOOOOOOOOOOOOOOOOOOOOOOOO! --লোকস্পঞ্জ22 • Talk • Contribs • Blog 21:18, May 3, 2012 (UTC)