What makes Universe 2 so unique?
Play Sound
Universe 2 (第2宇宙, Dai ni Uchū), the Gentle Universe (優しさの宇宙, Yasashisa no Uchū), is the second of the twelve universes in the Dragon Ball series. It includes planets, stars, and a large amount of galaxies. Universe 2 is linked with Universe 11, creating a twin universe. It is the universe with the sixth highest mortal level.[1] It was erased in the Tournament of Power. Universe 2 is restored along with all its inhabitants via Android 17's wish after winning the Tournament of Power.
The God of Destruction of Universe 2 is Heles, the Supreme Kai is Pell, and the Angel is Sour.
Places in Universe 2
Known Residents in Universe 2

Deities
Mortals
Races in Universe 2
Trivia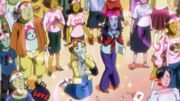 Gallery
See also
References