This article is about the Power Up used by Gohan. For For the Self Destruction technique used by Cell, see Unforgivable!. Directory: Techniques → Supportive Techniques → Power Up
Unforgivable (もうゆるさないぞ, Mō yurusanai zo, lit. "I Won't Forgive You Anymore") is a technique Gohan in his Super Saiyan 2 form.
Usage
This technique is a result of Gohan's rage due to the Cell Juniors and Cell's rampage.
Film Appearances
In Dragon Ball Z: Bojack Unbound, when Gohan faces Bojack in his Full Power Hera-seijin state.
Video Game Appearances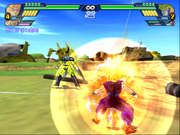 In the Budokai Tenkaichi series, Unforgivable allows Gohan to instantly regain all of his ki and puts him at MAX Power. Unforgivable uses three Blast Gauges.
In Dragon Ball: Raging Blast, Unforgivable is a Super Attack that eliminates ki consumption from signature skills and increases attack power while draining ki when still in effect.
Unforgivable appears in Dragon Ball Z: Dokkan Battle as Super Saiyan Gohan's Active Skill under the name "Awakening" where Gohan awakens to his Super Saiyan 2 state if your HP falls below a certain threshold and enough turns have passed if there is Android ally or enemy (or immediately if Android 16 is in the team).
Gallery
Community content is available under
CC-BY-SA
unless otherwise noted.