"This article is currently a work-in-progress. Please be patient as I gather all information for future completion. In the meantime, check out other collectible articles currently completed."
— PrinceZarbon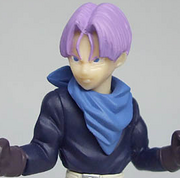 There are currently a total of 100+ Trunks (トランクス, Torankusu) collectibles that have been released by numerous companies to date. A gallery and the attached information appends to the official releases and genuine specifics in regards to the additional merchandise pertaining to each release.
AB Groupe
Bandai
Banpresto
MegaHouse
Plex
DeAgostini
Irwin Toy
Jakks Pacific
Model Kits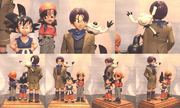 Resin-based model kit series
Release date: Unknown
This Dragon Ball GT resin-based model kit set includes 4 characters in one unique package. As a vintage model set, it is made of a soft white resin base and stands at a 1/13 scale. Additional details for each piece include the following for the height of each piece: Trunks (5.1 inches/13 cm), Goku (3.1 inches/8 cm), Pan (3.1 inches/8 cm), and Giru (approx. 2.3 inches/5.8 cm). Goku is seen maintaining both hands against his waist. Pan is seen holding her hands against her pant pockets and slightly bending as she speaks. Trunks is seen with one hand in his pocket and the other kept to his side. Giru is seen waving hello as he holds onto Trunks' shoulder.
Gallery
Community content is available under
CC-BY-SA
unless otherwise noted.