This article is about the
real world.
Toyotarō is the author of the spin-off manga Dragon Ball Heroes: Victory Mission, which debuted in the November 2012 issue of V-Jump and the illustrator of the Dragon Ball Super manga version. He is Akira Toriyama's chosen successor.[1][2]
Biography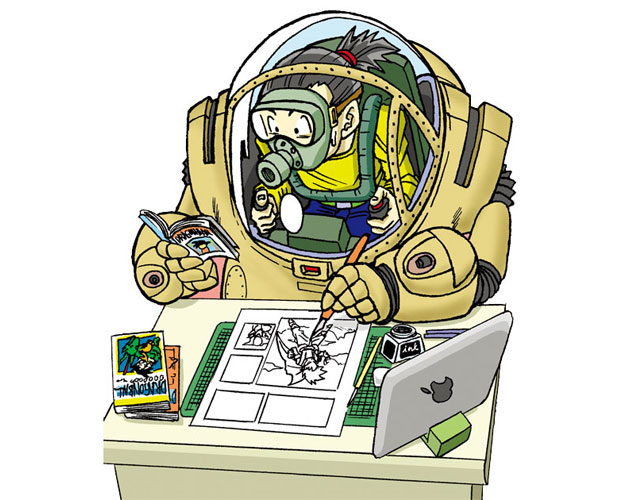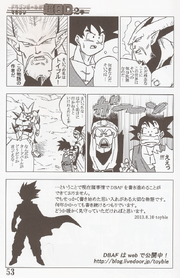 Toyotarō has drawn Dragon Ball ever since he was young, always drawing it after breakfast.[3] Toyotarō was likely the dōjinshi artist working under the name Toyble, and notable for creating a Dragon Ball AF manga in the year 2000.
He was hired by Shueisha in 2012 when he requested being the one to draw Dragon Ball Super[3] and debuted his career as an official manga artist under the name Toyotarō. He initially worked as the author of Dragon Ball Heroes: Victory Mission before moving on to move important subjects. He created the manga adaptation for the Dragon Ball Z anime 2015 film, Dragon Ball Z: Resurrection 'F', the Dragon Ball Z: Resurrection 'F' manga. Toyotarō drew two pages of Dragon Ball Super as demonstration, and Toriyama chose him as his successor.   Toyotarō is the official artist of the manga version of Dragon Ball Super. As of the Universe Survival Saga Toyotarō has also become a character designer for Dragon Ball Super, creating designs either by himself or by working together with Toriyama. He also drew Dragon Ball Xenoverse 2 The Manga.
Special Project: Toyotarō Drew It!!
Below are the drawings for the Special Project: Toyotarō Drew It !! (ス ペ ャ ル 企 画 き か く と よ た ろ う が 描 い み が 描 い, Supesharu Kikaku Toyotarō ga Kaitemita !!) with which Toyotarō publishes one design per month on the official Dragon Ball website, portraying mostly characters who do not properly appear in Dragon Ball Super.
Characters designed by Toyotarō
Dragon Ball Super
Video games
Trivia
Gallery
References
Community content is available under
CC-BY-SA
unless otherwise noted.