This article is about the
real world.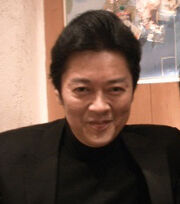 Toshiki Inoue (井上敏樹, Inōe Toshiki; born on November 28, 1959, in Saitama Prefecture) is a Japanese screenwriter known for his work on anime and tokusatsu dramas and films.
Biography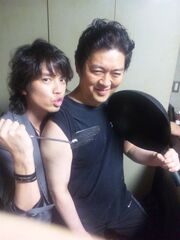 Toshiki Inoue is the son of Masaru Igami, who himself was a screenwriter for tokusatsu dramas. His hobby is cooking, and he has created a number of dishes to surpass even the professional.[1] Toshiki Inoue is also a close friend to Kohei Murakami, the Japanese actor who portrayed of Masato Kusaka/Kamen Rider Kaixa in Kamen Rider 555.[1]
Inoue was recruited by Keizo Shichijo in 1985, and debuted his career working on Dr. Slump, starting with episode twenty-nine. He later worked on Dr. Slump movies (Dr. Slump: "Hoyoyo!" Space Adventure, Dr. Slump and Arale-chan: Hello! Wonder Island, Dr. Slump and Arale-chan: Hoyoyo, Great Round-the-World Race), Dragon Ball, Dragon Ball Z, and Dragon Ball Kai.
Toshiki Inoue also worked on Bomberman Bidaman Bakugaiden, Case Closed, Dark Cat, Death Note, Dennō Coil, Devil May Cry, Dragon Drive, Drum Knuckle, Fist of the North Star, Fullmetal Alchemist, Galaxy Angel Z, Grander Musash, Iron Man, several Kamen Rider series, Kiba, Kindaichi Shounen no Jikenbo, Legend of Duo, MapleStory, Mashin Eiyuden Wataru, Master Keato, Ninja Scroll, Obatarian, Panyo Panyo Di Gi Charat, Ranma ½, Sumomomo Momomo, Urusei Yatsura, Witchblade, Yawara!, and Yu-Gi-Oh!
Toshiki Inoue is known for putting in a lot of drama in his shows. He is praised particularly for his works on Chojin Sentai Jetman, Kamen Rider Agito, Kamen Rider Faiz and Avataro Sentai Donbrothers.
Gallery
References
External links