This article is about the
real world.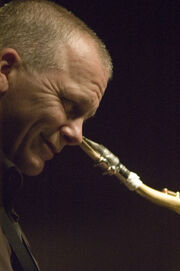 Tommy Keenlyside (born December 4, 1950) is an Award-winning saxophonist and jazz flute player from Vancouver, British Columbia, Canada. He was the main composer for the Ocean/Westwood dub of the Androids and Buu arcs.
Biography
Born and raised in Vancouver, Keenlyside took up the trumpet in 1962 at the age of 12, and played in various rhythm and blues bands throughout the 1960s. He played is first "gig" for money in 1964. He started to play the flute at the age of 15.
In the 1970s, Keenlyside played flute and trombone with the band Sunshyne during which time he began to play saxophone.
Keenlyside earned a Bachelor of Arts degree in Music (Flute Major) from the University of British Columbia before embarking on an extensive tours and recording collaborations with popular Rock music artists Prism and Bachman–Turner Overdrive (BTO). These two bands double-billed with such acts as Alice Cooper, Blue Öyster Cult, Foghat, Alvin Lee, Styx, and many others.
In the late 1970s, Keenlyside began to focus on commercial studio work, writing and playing jingles and album cuts which gained him popularity with Vancouver recording studios and artists for his flexibility, improvisational talent and multi-instrument skills. He worked on large orchestral arrangements for commercial sessions for Safeway, McDonald's, and many major oil company advertising campaigns. During this time, Keenlyside also accompanied many studio recordings for Disco music artists.
Keenlyside co-founded the band Skywalk in the early 1980s which produced five albums for MCA, Zebra and Mesa Blue Moon, which took the band on two major U.S. tours.
In the 1980s, Keenlyside also toured Canada with the Tom Keenlyside Quintet. Keenlyside also arranged tracks, collaborated, and recorded with various popular artists including Aerosmith, David Lee Roth, Mötley Crüe, Bon Jovi, Van Halen, INXS, and others.
Work on the show
Keenlyside, along with John Mitchell and David Iris, composed the score for Ocean Group's 2000-2002 dub of Dragon Ball Z episodes 108-276. They also composed it's theme song. They replaced the previous Ocean composer Shuki Levy, with their score continuing the synth/rock style used by Levy in the early episodes. Many of their Dragon Ball Z pieces were also used earlier in the Ocean dubs of Mega Man and Monster Rancher.