This article is about the
real world.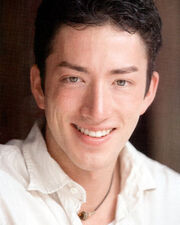 Todd Michael Haberkorn (born August 16, 1982, in Arlington, Texas) is an American actor, voice actor, ADR director, and scriptwriter who works for Funimation, and he has provided voices for a number of English language versions of Japanese anime series, films, and video games.
Biography
Haberkorn received his BFA in acting from Southern Methodist University. While he was working in theater, he joined FUNimation as a voice actor, with some minor bits in Black Cat and Peach Girl. He also worked at Illumitoon as Giku in Giku Warriors.
He voiced Android 19 in the Dragon Ball: Raging Blast series and Dragon Ball Z Kai, Tarble in Dragon Ball: Raging Blast 2, and Jaco in Dragon Ball Xenoverse and Dragon Ball Z: Resurrection 'F'.
Haberkorn is also well known as the voice of Allen Walker in D. Gray-man, Hikaru Hitachiin in Ouran High School Host Club, North Italy in Hetalia, Death the Kid in Soul Eater and Natsu Dragneel in Fairy Tail. He landed the lead role as Kimihiro Watanuki in xxxHolic, Yamato Akitsuki in Suzuka, and Ayato Kirishima in Tokyo Ghoul. He also worked at Illumitoon as Giku in Giku Warriors. He has worked in Texas and California as an actor, director, producer, and writer.
Gallery