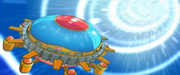 Time Machine Quests (often referred to as "TMQ") are the main missions featured in Dragon Ball Online. It is through them that they players partake past events in Dragon World history, interacting with the storylines and the historical characters. Time Machine Quests succeeds the Time Rifts.
Biography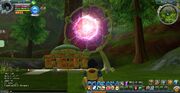 When traveling back in time, Miira and his allies, the Time Breakers, have created temporal distortions in the past, thus it is now possible for people who get sucked in to change the past. Time Patrol Trunks was forewarned by Dende of Miira's intentions to spread chaos throughout the timeline, so he and the players travel back using a Time Machine to try and restore the timeline in the different Time Machine Missions.
Trunks gathers a group of heroes, called the Time Patrol, to help him for the sole purpose of stopping the Time Breakers. The player himself is affiliated to the group, along with all the other online players.
Time Machine Missions
Community content is available under
CC-BY-SA
unless otherwise noted.