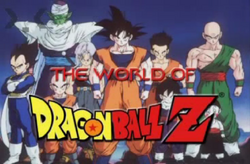 The World of Dragon Ball Z is a twenty-minute OVA special that was made and released by FUNimation Entertainment in 2000. The special reviews the Dragon Ball series from the Emperor Pilaf Saga up to the Trunks Saga.
Two different dubs are used in the special: the FUNimation dub and the 1995 Ocean Group Dub. This is because FUNimation did not have the rights to the Saiyan Saga and early Namek Sagas until SABAN's dubbing rights for Dragon Ball Z ran out a few years after the OVA was released.
The World of Dragon Ball Z is also on the Madman Entertainment's DVD "Trunks - Z Warriors Prepare", and all of the FUNimation "Androids Saga" DVDs and the 2000 DVD release of Dragon Ball Z: Bardock - The Father of Goku.