This article is about the Dragon Ball episode. For the episode with the same name, see The Return of Goku (Dragon Ball Z episode).
The Return of Goku (孫悟空の逆襲, Son Goku no Gyakushuu, lit. "Son Goku's Counterattack") is the sixth episode of the Commander Red Saga and the sixty-third episode in the Dragon Ball series. The episode first aired on May 20, 1987.
Summary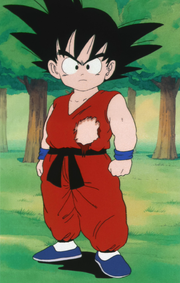 Mercenary Tao returns to the Sacred Land of Korin to find the missing Dragon Ball. Upa, who is still angry over his father's murder, attacks Tao, but Tao dodges and strangles Upa for information on the Dragon Ball. Upa refuses, so Tao throws him at the Korin Tower, but Goku and the Flying Nimbus save him. Then, Goku and Tao have a rematch, and Goku dominates the battle. Goku effortlessly fights with Mercenary Tao, kicking him in the stomach and hurting him in the process, sending him flying, and kicking him to the ground. As he pops out of the ground, Tao gets mad at Goku that his second suit was torn off and tells how difficult it is going to be to find another decent tailor. Goku tells him that he should worry about his fighting, not his looks. Tao then launches a Dodon Ray, which at Goku blocks with his hands. When Mercenary Tao learns that Goku's strength increased while in the Korin Tower, he climbs up there himself to become stronger. Until then, Goku and Upa decides to wait for him to come back.
Trivia
Gallery