"The Heeters' Plan" (ヒータの計画, Hīta no Keikaku) is the 71st chapter of the Dragon Ball Super manga.
Summary
On Beerus' Planet, Whis asks Goku what the fundamental difference is between himself and the Angels. After a quick demonstration where Goku finds himself whacked on the head by Whis' staff, Whis explains that they are always in the Ultra Instinct state whereas Goku transforms in order to access it, believing that he equates Ultra Instinct to his transformation. Goku then realises that he must learn to use Ultra Instinct in his normal form to which Whis tells him that doing so will free him of his stamina drain and that the transformation should be used as a last resort when he requires to surpass his limits. Whis offers some final words of encouragement to Goku and Vegeta to get stronger as something odd had recently taken place in the universe.
Meanwhile, Granolah returns to his home planet of Cereal, deciding to wait inside his spaceship until he hears word of Frieza's location from Elec. Oatmeel wondered if Monaito will be alright on his own, but Granolah assures them that he can watch the elder Namekian with his right eye which became stronger due to his wish.
At the Heeter's Base, Oil and Macki prepare to visit Earth but before they leave, Elec asks the pair to visit Zuno in order to find the location of the Saiyans Goku and Vegeta, amongst other things that need to be asked. As the two leave, Elec speaks with Gas who voices his desire to have fought with Granolah previously. Elec reassures Gas, telling him that he believes he could have beaten him but did not want to think about the worst case scenario. He tells him that he is the only member of the family who can surpass Frieza and that when the dust is cleared, the Heeters will be the supreme rulers of the universe.
A few weeks later, Oil and Macki land on Zuno's Planet. Though she finds the idea of kissing Zuno to be sickening, Macki does so and is awarded ten questions due to her feisty nature. Goku and Vegeta meanwhile continue their training, having progressed significantly in a short period of time.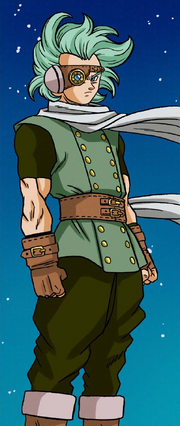 Sometime later, Oil and Macki finally arrive on Earth and visit Chi-Chi at Goku's House. They come up with a story of requiring their help in defeating a villain, offering to pay them in Sky Gold for their help. After heading to Capsule Corporation, Bulma gets into contact with the Saiyan pair and they soon find themselves intrigued upon hearing that the villain is supposedly the strongest being in the universe. Upon realising that he may be the same being as was previously mentioned by the Oracle Fish the two agree to help. Before heading off to Earth with Whis, Beerus gives Vegeta an earring which he says is to symbolise that he can use Hakai. Whis on the other hand, draws his signature symbol on Goku's Gi. After some familiar rival behaviour between the pair the two make their way back to Earth.
Inside Capsule Corporation, Macki steals the Dragon Radar but finds that they are not picking up a signal from Earths Dragon Balls. Oil reminds Macki about what Zuno had said earlier, the Cerealian Dragon Balls do not turn to stone. Goku and Vegeta return to Earth where they come face to face with the two Heeters members. Macki offers to take the two to the villain aboard their spaceship which features a swimming pool. Oil tells the two that it will take 18 days to reach planet Cereal and they should enjoy some gourmet cooking while they travel. While Goku eats and Vegeta continues to train in the pool, Macki contacts Granolah telling him that they found Frieza's location but that Frieza has been made aware of his intention to kill him. Macki tells him that Frieza has sent two Saiyan assassins his way and Granolah leaves his ship saying that after fifty years he can finally get revenge on the Saiyans that devastated his home world and slaughtered his kin.
Appearances
Characters
Locations
Objects
Gallery
<<< Manga Series

Dragon Ball Super manga
God of Destruction Beerus Saga • Universe 6 Saga • "Future" Trunks Saga
Universe Survival Saga • Galactic Patrol Prisoner Saga • Granolah the Survivor Saga
Warriors from Universe 6!
God of Destruction's Premonition • Goku Defeated • The Rage of Beerus • Battle of Gods • Beerus and Champa • Tournament Preparation • Warriors from Universe 6 • The Battle Begins! • Goku vs. Botamo • Special Comic • Special Comic 2
The Winning Universe is Decided!
Frost's True Form • Vegeta's Turn!! • Saiyan's Pride • The Winning Universe is Decided! • SOS from the Future • Hope!! Once Again • Extra Edition 1
Zero Mortal Project!
"Future" Trunks' Past • Zamas: The Next Lord of Lords from Universe 10 • Goku Black's True Identity • Another Zamas • The Zero Mortal Project
Last Chance For Hope
Last Chance For Hope • Zamas's Final Trump Card • The Potara's True Worth • Son Goku's Evolution
The Decisive Battle! Farewell, Trunks!
Will it be Goku?! or Zamas?! • The Decisive Battle! Farewell, Trunks! • Life, Training and More • The Gods of Destruction From All 12 Universes • Extra Edition 2
The Super Warriors Gather!
Toppo, Universe 11 God of Destruction Candidate! • The Man Named Jiren • The Super Warriors Gather! • The Super Warriors Gather!, Part 2
Universe Survival! The Tournament of Power Begins!!
Universe Survival! The Tournament of Power Begins!! • The First Doomed Universe • Hit vs. Jiren • Quirky Competitors
Sign of Son Goku's Awakening
Awaken, Super Saiyan Kale • Universe 6's Last Resort • Sign of Son Goku's Awakening • Jiren vs. Universe 7 • Extra Edition 3
Battle's End and Aftermath
Ultra Instinct • Battle's End and Aftermath • Joining the Galactic Patrol! • Escaped Prisoner Moro
Moro's Wish
Moro's Magic • Namek in Decline • Stolen Dragon Balls • Moro's Wish • Special Edition 3
Great Escape
Outer Space Battle • Great Escape • To Each Their Own Plans • Goku and Vegeta's Training • Extra Edition 4
Merus's True Identity
Saganbo's Galactic Bandit Brigade • Son Gohan vs. Seven-Three • Merus's True Identity • Warriors of Earth Assemble • Special Edition 4
Battles Abound
Battles Abound • Son Goku Arrives • Activate - Ultra Instinct -Sign- • Merus's Miscalculation
Son Goku, Galactic Patrol Officer
Vegeta Reborn • Edge of Defeat • Merus's Resolve • Son Goku, Galactic Patrol Officer
Moro, Consumer of Worlds
Son Goku, Earthling • Moro, Consumer of Worlds • Happy Endings...And Then... • Granolah the Survivor
The Universe's Greatest Warrior
The Evolution of Planet Cereal • The Universe's Greatest Warrior • The Heeters' Plan • Saiyans and Cerealian
God of Destruction Power
Goku Vs. Granolah • Vegeta Vs. Granolah • God of Destruction Power • The Fate of the Saiyans
Bardock, Father of Goku
Bardock, Father of Goku • Gas's Wish • Gas Vs. Granolah • Gas Vs. Granolah, Part 2
Chapters not yet in Volume format
Goku's Conflict • Bardock Vs. Gas • Bardock Vs. Gas, Part 2 • A People's Pride