"The Enemy is Goku's Brother?! The Secret of the Mighty Saiyan Warriors!" (敵は悟空の兄!? 最強戦士サイヤ人の秘密, Teki wa Gokū no Ani!? Saikyō Senshi Saiya-jin no Himitsu, lit. "The Enemy is Goku's Older Brother?! The Secret of the Saiyans, Strongest of Warriors") is the second overall episode in the Dragon Ball Z Kai series. This episode first aired in Japan on April 12, 2009. Its original American airdate was May 24, 2010.
Summary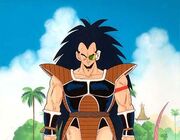 The stranger reveals that his name is Raditz and that he is Goku's older brother. Goku cannot remember this, as he suffers from brain damage caused by a fall when he was a child. Raditz reports that he and Goku are of an alien race called the Saiyans and that he and Goku are among the last four remaining. He then asks Goku to join them in exterminating the population of Earth, taking Gohan hostage when Goku refuses.
Piccolo appears and offers to help him defeat Raditz, Goku accepts his offer and together they follow after Raditz. Goku and Piccolo confront the Saiyan at his space pod's crash site, but Raditz is not impressed and tells them that there are two other Saiyans that are even stronger than him.
Trivia
Gallery
References
Community content is available under
CC-BY-SA
unless otherwise noted.