(44 intermediate revisions by 14 users not shown)
Line 1:
Line 1:
−

{{stub}}

 
 

{{Chapter Infobox

 

{{Chapter Infobox

 

|viz title=The Decisive Battle at Last!

 

|viz title=The Decisive Battle at Last!

 
+

|cover=<tabber>

⚫
 
 
+

|-|Full Color=[[File:DBFCM 229.jpg]]

⚫
 
 
⚫
⚫
 
 
+

|-|Tankōbon=[[File:230 tan.png]]

−

|jpnname=

 
 
+

|-|Viz=[[File:Dragon Ball Z Chapter 35.jpeg]]

−

|romaji=

 
 
+

</tabber>

−

|translated title=

 
 
⚫
−

|release=

 
 
⚫
⚫
 
 
+

|jpnname=天下分け目の超決戦!!

−

|saga=

 
 
+

|romaji=Tenkawakeme no Chō-Kessen!!

−

|episode=

 
 
+

|translated title=A Fateful Super Decisive Battle!!

 
+

|release=July 3, 1989 ([[Weekly Shōnen Jump]], 1989 #29)

 
⚫
 
+

|saga=[[Vegeta Saga]]

 
+

|episode=[[Goku vs. Vegeta|30]]

 
+

|kaiepisode=[[The Power of Kaio-Ken! Goku vs. Vegeta!|13]]

 

|previous=Mano a Maniac!!

 

|previous=Mano a Maniac!!

 

|next=Too Much Power?

 

|next=Too Much Power?

 

}}

 

}}

 
+

{{nihongo|'''"The Decisive Battle at Last!"'''|天下分け目の超決戦!!|''Tenkawakeme no Chō-Kessen!!''|lit. "A Fateful Super Decisive Battle!!"}} is the thirty fifth chapter of ''Dragon Ball Z'' and the two hundred twenty-ninth overall chapter of the [[Dragon Ball (manga)|''Dragon Ball'' manga]].

 
+
 
+

==Cover==

 
+

The cover of this chapter shows [[Goku]] and [[Gohan]] riding a [[dinosaur]]. The title of the series is spelled wrong in the original version, being written ''Dagon Ball'' (with the R missing) instead of ''Dragon Ball''; this was corrected in the ''[[Dragon Ball Full Color]]'' version. The cover art for this chapter is also featured in the artbooks ''[[Akira Toriyama - The World]]'' and ''[[Daizenshuu 1]]''.

 
+
 
+

==Summary==

 
+

[[File:229 01.png|thumb|left|Vegeta powers up]]

 
+

[[Vegeta]] shows Goku the power of a [[Saiyan]] elite, shaking the whole planet with his great power. Their battle resumes with Vegeta easily gaining an upperhand over Goku, even though Goku is using [[Kaio-ken]] x2. With no other options on how to defeat Vegeta, Goku decides he must power up to Kaio-ken x3.

 
+
 
+

==Appearances==

 
+

===Characters===

 
+

[[File:229 02.png|thumb|Goku dodges Vegeta's Ki Blast]]

 
+

*[[Goku]]

 
+

*[[Vegeta]]

 
+

*[[Yajirobe]]

 
+
 
+

===Locations===

 
+

*[[Earth]]

 
+

**[[Gizard Wasteland]]

 
+
 
+

===Techniques===

 
+

*[[Kaio-ken]]

 
+

*[[Shine Shot]]

 
+
 
+

==Site Navigation==

 
+

{{Goku vs. Vegeta}}

 
+

[[Category:Manga Chapters]]

 

[[Category:Dragon Ball Z]]

 

[[Category:Dragon Ball Z]]

 
+

[[Category:Vegeta Saga]]

 
+

[[Category:Dragon Ball Z chapters]]

 
+

[[Category:Dragon Ball manga chapters]]
---
Latest revision as of 16:35, 7 November 2020
"The Decisive Battle at Last!" (天下分け目の超決戦!!, Tenkawakeme no Chō-Kessen!!, lit. "A Fateful Super Decisive Battle!!") is the thirty fifth chapter of Dragon Ball Z and the two hundred twenty-ninth overall chapter of the Dragon Ball manga.
Cover
The cover of this chapter shows Goku and Gohan riding a dinosaur. The title of the series is spelled wrong in the original version, being written Dagon Ball (with the R missing) instead of Dragon Ball; this was corrected in the Dragon Ball Full Color version. The cover art for this chapter is also featured in the artbooks Akira Toriyama - The World and Daizenshuu 1.
Summary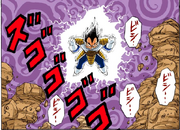 Vegeta shows Goku the power of a Saiyan elite, shaking the whole planet with his great power. Their battle resumes with Vegeta easily gaining an upperhand over Goku, even though Goku is using Kaio-ken x2. With no other options on how to defeat Vegeta, Goku decides he must power up to Kaio-ken x3.
Appearances
Characters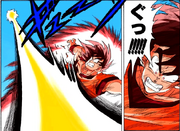 Locations
Techniques