Terror, known as Kinkaku (金角, Kinkaku, lit. "Golden Horn") in the original Japanese version, is a character who appears in the Dragon Ball episode "Terror and Plague".
Biography
Dragon Ball
Fortuneteller Baba Saga
Main article: Fortuneteller Baba Saga Terror and his partner Plague terrorize Chao's village with the Gourd of Mist by making them serve a large banquet on a regular basis which leaves very little food remaining for the villagers. Terror is shown to be the leader of the duo, and he even tells Plague to stand down, stating that he is no match for Goku. Although Terror is able to put up a better fight, he is still outclassed and defeated by Goku, and is forced to use the Gourd of Mist to trap him inside it.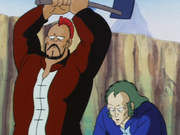 Eventually Goku manages to escape and Terror is trapped inside the Gourd of Mist, alongside Plague after failing to say his name as many times as it was called. He apologises though and Goku lets them both free. He is later seen with Plague farming in the village, but while being threatened by the village people who have the Gourd of Mist.
Abilities
Equipment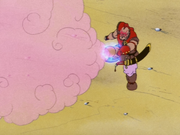 Voice Actors
Trivia
Gallery
References