This article is about the
real world.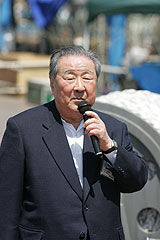 Tan Takaiwa (高岩 淡; born on November 13, 1930, in Fukuoka) is a Japanese businessman, film producer, and the president of Toei Animation.
Biography
He produced the movies Dr. Slump and Arale-chan: N-cha!! Trembling Heart of the Summer, Dragon Ball Z: Fusion Reborn, Dragon Ball Z: Wrath of the Dragon, and Dragon Ball: The Path to Power.
Outside of Akira Toriyama's manga series, Tan Takaiwa worked on the movie adaptations Aoki Densetsu Shoot!, Chiisana Kyojin Microman: Daigekisen! Microman VS Saikyō Senshi Gorgon, Digimon: The Movie, Gegege no Kitarō, Gokinjo Monogatari, Jigoku Sensei Nube, Marmalade Boy Movie, One Piece, Sailor Moon, Slam Dunk, Tamagotchi Honto no Hanashi, and Yu-Gi-Oh!
Gallery
External links