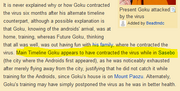 That can't be. Why did Goku get the virus while there but the others didn't? A good guess is that Goku got the virus while on Yardrat. It might be harmless to the natives but fatal to a Saiyan.

Sandubadear

03:06, August 26, 2013 (UTC)
Thanks :3

Sandubadear

00:19, August 27, 2013 (UTC)
Fighting and Training
How can fighting make the infection faster because of wear and tear on the heart but training postpone? They do the same thing in terms of making his heart rate go faster so I don't think that argument is valid. Fighting or training it does not matter it made Goku in better health.Cloudtheavenger (talk) 04:05, April 10, 2015 (UTC)
Yamcha
In Dragonball Z Kai, Yamcha states that the virus is supposed to be contagious for some reason. Is this notable? --AleximMose (talk) 17:16, April 5, 2016 (UTC)
Goku takes HOW LONG to recover?
Ten days? Really? How does it compute? Short answer, it doesn't. Long answer, If he was really recovering for ten days, he would've been in bed when the Cell Games were announced. He wasn't. Either we need to push all of the events during the Androids and Cell Saga that Goku is either directly involved in, or caused, back 5-6 days otherwise, or we need to correct this. Unless someone can explain this. Pauldarklord (talk) 18:10, February 14, 2018 (UTC)
Infobox template oddity
It doesn't quite seem right that Goku is listed as a "user" of the Heart Virus, as if it was a technique. Saying "Goku used the heart virus to die" seems... off. JordanTH (talk) 02:19, July 4, 2019 (UTC)
Community content is available under
CC-BY-SA
unless otherwise noted.