new game!
so after raging blast 2 and tenkaichi tag team there is already coming a new dbz game? guess it's still very popular around the world, that's great! :) i'm going to buy it although i'm not sure due the 3DS being VERY expensive and this game won't be cheap either. but if i have the money by then i will probably buy it. it can still take a year before the game will be released...—This unsigned comment was made by 84.27.233.206 (talk • contribs) Please sign your posts with ~~~~ next time!
Actually i think that this game will be a sequel to Dragon Ball origins 2, the first was called Dragon Ball (ND) in japan, i think that they will end the saga of the first tv dragon ball.—This unsigned comment was made by 85.246.199.141 (talk • contribs) Please sign your posts with ~~~~ next time!
more info needed
Nothing is known about this "video game". All we know is that a Dragon Ball video game might be released on the Nintendo 3DS. This video game can be anything: from Dragon Ball: Origins 3 to a fighting game. This page might be delete, there is no point keeping an article with no info and only having an infobox saying "TBA" in all fields. Jeangabin666 01:43, April 25, 2011 (UTC)
Names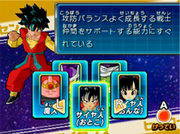 Alright since it's only the Hero and the Heroine in the saga now do their names refer to Beat and Note now or still Saiyan Hero and Saiyan Heroine
I would have few questions about this game!
1- Where we can download this game?
2- İs new charecters automatic adding into this game?
3- What is the QR code?
4- İs this game includes Fasha (base, great ape) and all of other dragon ball heroes charecters?
Community content is available under
CC-BY-SA
unless otherwise noted.