This article is about the
real world.

Takeshi Kusao (草尾毅, Kusao Takeshi) (born in Saitama) is a Japanese voice actor who works for Aoni Production.
Biography
Takeshi Kusao debuted his voice acting career in 1987, in the movie adaptation of Akira, as Kai. In 1990, he tried to become a J-Pop vocalist, but he eventually continued his voice acting career.
Among his many roles, Takeshi Kusao is best known as the voices of Future Trunks and Trunks in Dragon Ball Z, Dragon Ball GT, Dragon Ball Kai, and Dragon Ball Super. He also voices Lavender, Vewon, Hyssop and Narirama in Dragon Ball Super.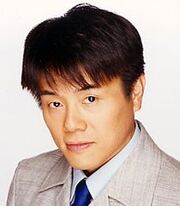 His other notable roles are Jun (Ai Monogatari), Kōichi/Babel II (Babel II), Azuma Tetsuya/Casshan (Casshan), Mao (Code Geass - Hangyaku no Lelouch), Krad (D.N.Angel), Zhi-Jun Wei (Darker Than Black), Ballistamon, Bagramon, Old Clock Shop Man & Aonuma Kiriha (Digimon Xros Wars), Ichimonji Gō (Getter Robo Go), Fukamachi Shō/Guyver (Kyōshoku Sōkō Guyver), Dororo (Keroro Gunsō), Parn (Lodoss Tō Senki), Lamune et Lamuness (NG Knight Lamune & 40), Hazuki (Ginga Eiyū Densetsu), Kohza & Jaguar D. Saulo (One Piece), Kid Woonan (One Piece The movie), Zap (One Piece Special 2), Muchigorō (One Piece film 6), Coco (Precure All Stars DX), SD Satryanda Widjanarko (SD Tryan) (SD Vierra), Katori Ishimatsu (Ring ni Kakero), Wolf Nachi (Saint Seiya), Capricorn Shura (Saint Seiya : Meiō Hades), Kōgaiji (Saiyuki), Saionji Kyōichi (Shōjo Kakumei Utena), Sakuragi Hanamichi (Slam Dunk), Phoenix (Super Bikkuriman), Cless Alvein (Tales of Phantasia), Moteuchi Yōta (Video Girl Ai), Sanada Ryo (Yoroiden Samurai Troopers), and Adol Christen (Ys).