This article is about the
real world.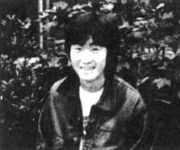 Takashi Matsuyama (まつやま たかし; born on November 17, 1957) is a Japanese illustrator living in Gifu Prefecture. He is well known for having been Akira Toriyama's second assistant.
Biography
Takashi Matsuyama joined Toriyama in 1981, replacing Hisashi Tanaka. He worked on the second half of Dr. Slump and the whole Dragon Ball manga under the pseudonym Matsuyama-kun (松山 くん). Matsuyama notably drew the buildings and landscapes of Penguin Village,[1] that of the 1983 manga Chobit, Kame House, and the landscapes of Namek. After the end of Dragon Ball in 1995, Takashi Matsuyama acted as Toriyama's assistant only one more time in the late 2000s, for Oishii Shima no Ū-sama.
Takashi Matsuyama is a fan of custom figure, and he is the man who introduced Akira Toriyama to Kunihiro Suzuki in 1984, the creator of the Fine Molds company for which Bird Studio produced several works.
He made the artbook Motor Panic in 1992, and a book called Jibun De Tateta Akogareno Amerikanhausu (lit. "Built your Own American House") in 1999. Takashi Matsuyama is currently working as an illustrator for the magazine Daytona.
Gallery
References
External links
Community content is available under
CC-BY-SA
unless otherwise noted.