This article is about the
real world.
Tabitha St. Germain (born in Boston, Massachusetts), formerly known by the alias of Paulina Gillis,[1] is an American-born Canadian actress, voice actress, and singer.
Biography
Tabitha St. Germain has made the transition from stage work to voice work, and has since become one of the core female voice actresses working with Ocean Productions in Vancouver, British Columbia. She is best known for voicing numerous characters, mainly in the Vancouver and Toronto regions, occasionally under her alias Paulina Gillis, as well as in Los Angeles. As Paulina Gillis, she won a Dora Award in 1995 for her performance in Assassins, the Stephen Sondheim musical.[2]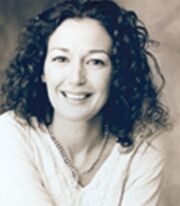 She voiced Dende in the Saban/FUNimation/Ocean English dub of the first two seasons of Dragon Ball Z. She later reprised that role, and also played Gotenks in the Ocean Group dubs of the sixth through ninth seasons for Canadian and European broadcast.
Some of her other roles include Nazz in the first season of Ed, Edd, n Eddy, several characters in InuYasha, as well as voicing Olive Oyl in recent Popeye media, Rarity in My Little Pony: Friendship is Magic, Spryte in The Legend of Zelda: The Animated Series, Kootie Pie Koopa in Captain N & The Adventures of Super Mario Bros. 3, Abby in Swamp Thing: The Animated Series, Princess Sally Acorn in Sonic Christmas Blast, Maddy in MegaMan NT Warrior, Kasumi Shiina in The SoulTaker, Fidget Wilson in Action Man, Cappy in Hamtaro, Scary Godmother in Scary Godmother: Halloween Spooktakular, Fllay Allster, Birdy, and Haro in the Mobile Suit Gundam franchise, Alexis in Transformers: Armada and Energon, Pucca in Pucca, Mariah Hill and Technovore in Iron Man: Armored Adventures, Chibisuke in Dragon Drive, and Shana in Shakugan no Shana.
She has also sang songs in My Little Pony and Littlest Pet Shop.
Trivia
In the early Saban dub she was credited as Paulina Gillis.
References