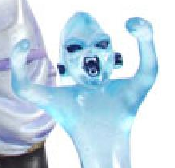 There are currently a total of 2 Super Buu Kamikaze Ghost (スーパーゴーストカミカゼアタック) collectibles that have been released by numerous companies to date. A gallery and the attached information appends to the official releases and genuine specifics in regards to the additional merchandise pertaining to each release.
Bandai
Part 28 Keshi Set
Release date: 1995
This miniature Keshi set Part 28 has included a few of the characters from the Fusion Saga and Wrath of the Dragon movie. One of Bandai's Keshi series, it has included characters such as Tapion with his sword, 2 versions of Hirudegarn (one in his first form and another in his evolved state), Great Saiyaman, Great Saiyawoman, Super Saiyan Kid Trunks, Super Saiyan Gotenks, Vegeta, adult Gohan, Goku, Super Saiyan 3 Goku, Vegito, Super Saiyan Vegito, and Super Buu with his Kamikaze Ghost for a total of 14 pieces in this set. Super Buu appears in his Gohan absorbed state and is seen with his hands raised up and tightly gripped as his Kamikaze Ghost holds a sinister smirk and has his hands flailing in front.
Irwin Toy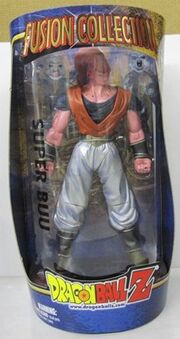 IF Labs Fusion Collection Series 3
Release date: 2002
In conjunction with Irwin, IF Labs has released a large-scale 12 inch Super Buu in 2002 as a part of the third Movie Collection Series entitled "Fusion Collection" and the last released by Irwin. The packaging is quite unique, with a round bubble and elliptical casing shape. The series was extremely limited and this figure was no exception. However, this figure was re-released twice by Jakks Pacific, allowing for three different versions of the figure to be obtained with differentiating boxarts. Aside from the initial construct of the boxart and box structure, the actual item remains the same. This variant of Super Buu also includes two Super Buu Kamikaze Ghost pieces. The forthcoming variants of this figure would not include the transparent Kamikaze Ghosts included in this package.
Gallery
Community content is available under
CC-BY-SA
unless otherwise noted.