Spiritualist (気功家, Kikōka) is one of three starting careers currently available to the Earthling race in Dragon Ball Online, the two others being Martial Artist and Engineer. They excel in use of spiritual energy rather than physical fighting, and thus the class pertains primarily to spiritual damage.
Overview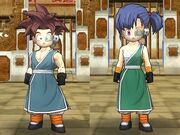 Spiritualists are mystics that specialize in spiritual, ki-based techniques and "bleed damage". Their physical damage is sub-par to any melee class and rely more on their ki. But their advantage in battle is firstly their range, and secondly their effect-causing debuffs.
Spiritualists excel at delivering damage within further range their opponents and are an outline to characters like Krillin and Chiaotzu. Techniques such as Kamehameha, Spirit Ball, and Destructo Disc are exclusive to the Spiritualist skill tree.
Master classes
Once reaching the required level of skill, a Spiritualist may choose to take on one of two secondary careers: Turtle Hermit or Crane Hermit.
Turtle Hermit
The Turtle Hermit sub-class represents Krillin's re-established Turtle School. Warriors of this class are capable of delivering both physical and spiritual damage at both close and far distances with the use of a Rod weapon. Super Kamehameha, Krillin's Scattering Bullet, and an upgraded Consecutive Disks attack are parts of the Turtle Hermit skill tree.
Crane Hermit
The Crane Hermit sub-class represents Tien Shinhan's re-established Crane School. Warriors of this class deliver high, area-of-effect spiritual damage through sacrificing their own life points, rather than EP. Crane Hermits utilize Fan weapons (similar to the Bansho Fan) that can deliver both spiritual and physical damage at long distances. Techniques such as the Dodon Ray, Tri-Beam, and Dodon Barrage are parts of the Crane Hermit skill tree.