This article is about the
real world.
Don Rafael "Sonny" Strait, Jr. (born June 28, 1965) is an American voice actor, ADR director, writer, and comic creator. He has most notably voiced Krillin (as an adult) in the Funimation dub of the Dragon Ball series. He has also done the voices of Bardock, General Blue, Bandages the Mummy, Piano and Giru.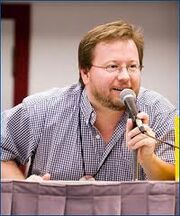 Some of his other notable roles include Arsene Lupin III in the Lupin III franchise, Kyuzo in Samurai 7, Maes Hughes in the Fullmetal Alchemist franchise, Usopp in the One Piece franchise, Apachai in The Mightiest Disciple Kenichi, Skin Boric in D.Gray-Man, and Ragnarok in Soul Eater. He also voiced the original incarnation of TOM, the host of Cartoon Network's Toonami block (where Dragon Ball Z first rose to fame in the U.S.).
He has also helped to write the dub scripts for episodes of anime series including Ghost Hunt and Kiddy Grade.
Trivia
Strait appeared with his daughter, Savannah Ligaluppi in one of the "Catching Up with the Dragon Ball Universe" extras featured on the Dragon Ball Super Part 1 BD.

Savannah herself had an uncredited role in Dragon Ball Z. This was first revealed by Savannah herself in one of her comments on a YouTube upload of the extra, saying "[She] did a voice when [she] was 8 for DBZ."[1] The role in question, however, has yet to be determined.
References
Community content is available under
CC-BY-SA
unless otherwise noted.