This article is about the
real world.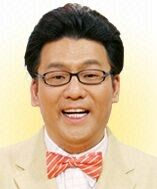 Shinichi Karube (軽部 真一; born on October 8, 1962, in Tokyo) is a Japanese actor and TV announcer. He works for Fuji TV, and he was an anime voice actor for the 2013 movie Dragon Ball Z: Battle of Gods.
Biography
Shinichi Karube joined Fuji TV in 1985. He worked as an announcer for the Fuji TV shows Tokyo Love Cinema (2003), Fukigen na Gene (2005), 33pun Tantei (2008), and Nazotoki wa Dinner no Ato de SP (2012). In May 2004, Shinichi Karube married a doctress working at Fuji TV medical office, they have a daughter born in January 2007.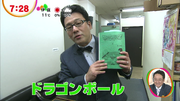 He voiced a sushi-chef modeled after him in the movie Dragon Ball Z: Battle of Gods. On January 29, 2013, it was shown on the Fuji TV morning news/magazine show Mezamashi TV that Shinichi Karube went in and met with director Masahiro Hosoda, who showed him his character. As they get set to record, he followed the director back into the control booth, where Hosoda comments on him being a "complete amateur." His line, in the clip, is simply "it is called sushi". Afterwards, he has a Kamehameha-off with the olympic gold-medalist Kaori Matsumoto, who also voiced a character based on her in the movie, to see who can produce the greater ki. Kaori Matsumoto wins. Shinichi Karube then asks her how she would win if she were fighting against Goku, and she says that in the instant he fired a Kamehameha, she would dodge it and then do an ippon-zeoi (one-armed shoulder throw), though Goku would be disqualified by using an outside object (that being the Kamehameha).
Gallery
External links
Community content is available under
CC-BY-SA
unless otherwise noted.