This article is about the
real world.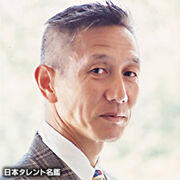 Shigeharu Matsuda (松田 重治; born on May 7, 1952, in Hiroshima Prefecture) is a Japanese voice actor.
He voiced Hoi in Dragon Ball Z: Wrath of the Dragon. He also voiced many orther small villains and gag characters, and he notably played the voice of Ultra Seven in the 1984 movie Ultraman Story, Rolf Otto Brauhitz in the OVA Legend of the Galactic Heroes, and Hyena in Ginga: Nagareboshi Gin.
External links