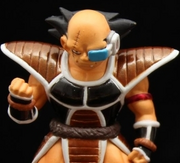 There is currently a total of 1 Scarface (also known as Onion) collectible that has been released to date. A gallery and the attached information appends to the official release and genuine specifics in regards to the additional merchandise pertaining to each release.
Banpresto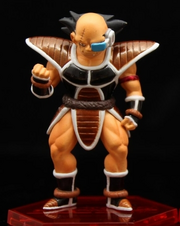 Legend of Saiyan Part 5
Release date: 2010
Banpresto has unleashed a wonderful repertoire of figurines in December, 2010 titled "Legend of Saiyan" series. In the Part 5 set of this collection, Scarface has been included with both hands tightly gripped, one raised upward as he shakes his fist and the other kept to his side. kept to his sides. He is perfectly crafted to look as he did in the Vegeta Saga episode Pendulum Room Peril. His fearsome and sadistic expression as well as his crouched posture is a visible attribute that showcases the level of threat which he poses. He also comes with a hexagonal orange colored base to stand on. This figurine's numeric is 24 in this Legend of Saiyan series.
Gallery
Community content is available under
CC-BY-SA
unless otherwise noted.